eInsight - PriorityQ Skip action
PriorityQ allows you to personalize Confirmation, Modification, and Cancellation emails to your most valuable guests to make them feel welcome far before they get to your property.
Skip a Record
Navigate to eInsight > PriorityQ.

Once you are in PriorityQ, search using the Search bar

Or filter on the individual column to find the record you are looking for.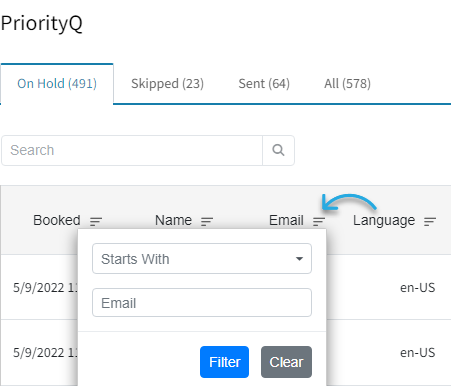 When you find the guest you want to personalize the email for and then click on the ellipses and then click on skip.

This action will remove the record row from the On Hold tab. The record will move to the Skipped tab for you to review and action on at a later time.
Users can utilize the Skip action to help reduce the records in the On Hold tab. This should help to quickly move through reservations that need to be edited and actioned on in the same session. You are not losing the record, but simply moving it to a different area to be actioned on later.