Stay Analysis Dashboard provides a 30k-foot view into room revenue and stay metric performance with period-over-period comparison. On the fly currency conversion is available on all dashboards for configured property currencies.
Geographic Analysis is an historical view of performance by Country and Region with grouping by Property or Travel Agency.
Market Segment Analysis offers an investigative view of market segments and subsegments, including Weekend vs. Weekday and With vs. Without Children comparisons.
Source Analysis & Trending provides an investigative view of Room Revenue by various revenue groupings, with results presented by Booking Date.
Data Explorer is an interactive data exploration tool that leverages AI visual to automatically detect and present high and low values at any point in the exploration.
Stay Analysis
Additional Filters are available by selecting icon on the top left.
Data filtering options are located on the top right of the page. The default option is the current month.
KPI Scoreboard at the top includes configurable period-over-period comparison. The default option is for 'Previous Period'.
Revenue Distribution can be toggled between several options.
Color legend on Repeat vs. New visual can be selected to dynamically filter the dashboard for Repeat or New Guests as desired.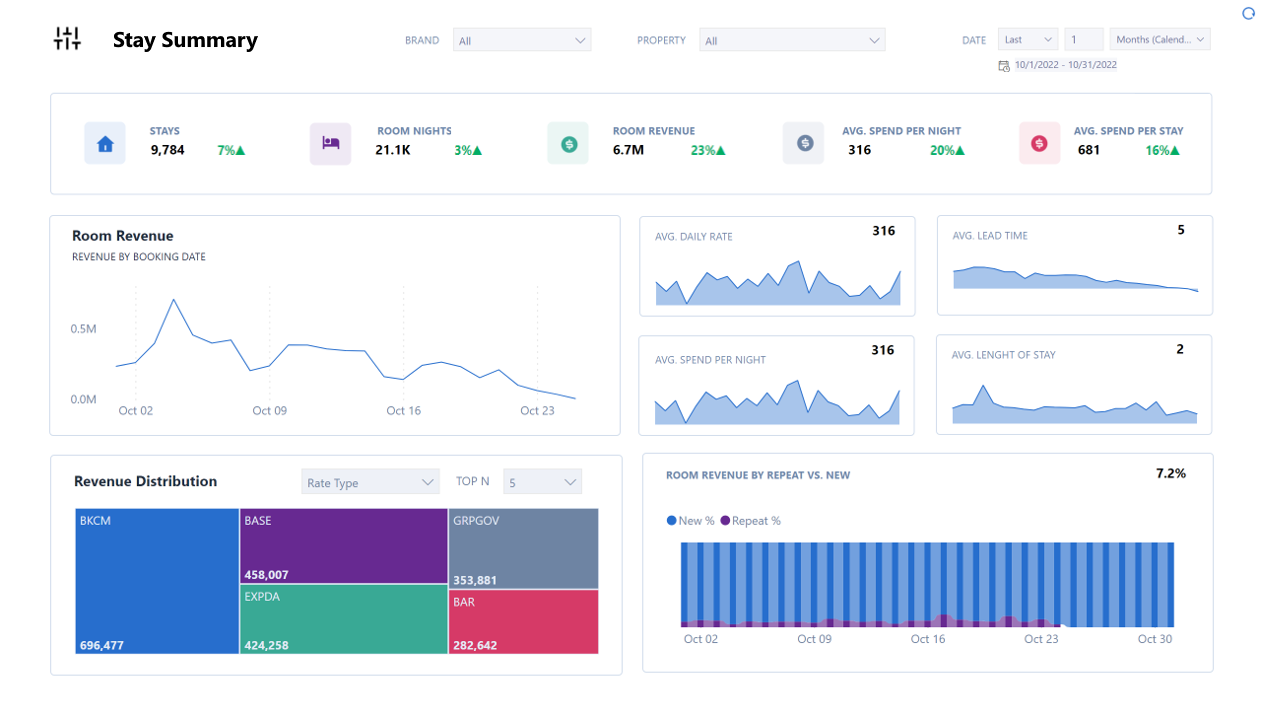 Geographic Analysis
Location is based on CountryCode and CountryName matches to Cendyn Region Mappings for PMS Profiles.
Top Countries visual is calculated based on Stays and grouped by country of origin.
Performance matrix shows current year against previous year performance for desired metric. Results can be grouped by Property Name or IATA Name.
Geographic Decomposition shows Country and Source of Business by default but can be expanded to include additional information. All groupings can be used to visual filter the dashboard.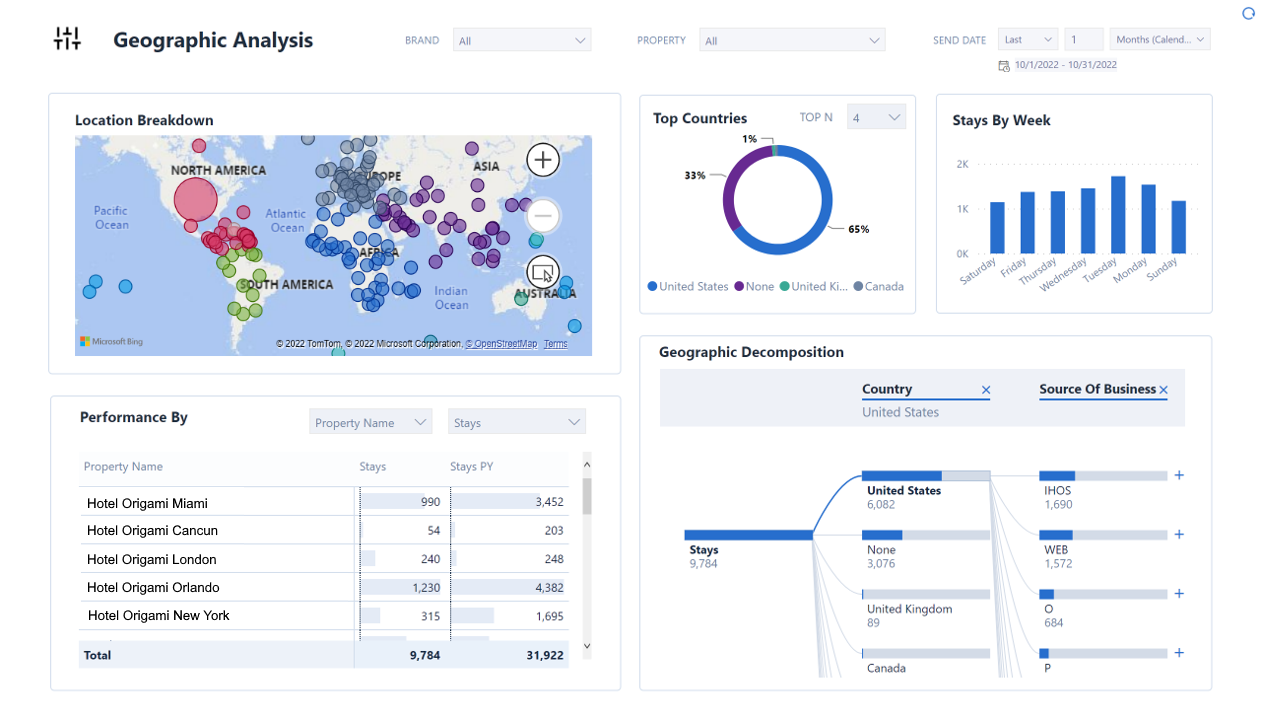 Market Segment Analysis
Market Segment and Subsegment Matrix includes Stays, Room Nights, and Room Revenue by Segment and Subsegment.
Percent distribution can be toggled between Stays%, Nights%, or Revenue% in the Market Segment matrix.
Weekend vs. Weekday heatmap color codes totals are relative to the data displayed and can be toggled between various revenue metrics.
Repeat vs. New distribution and totals are based on the number of guests.
With vs. Without Kids can be toggled between various available revenue metrics.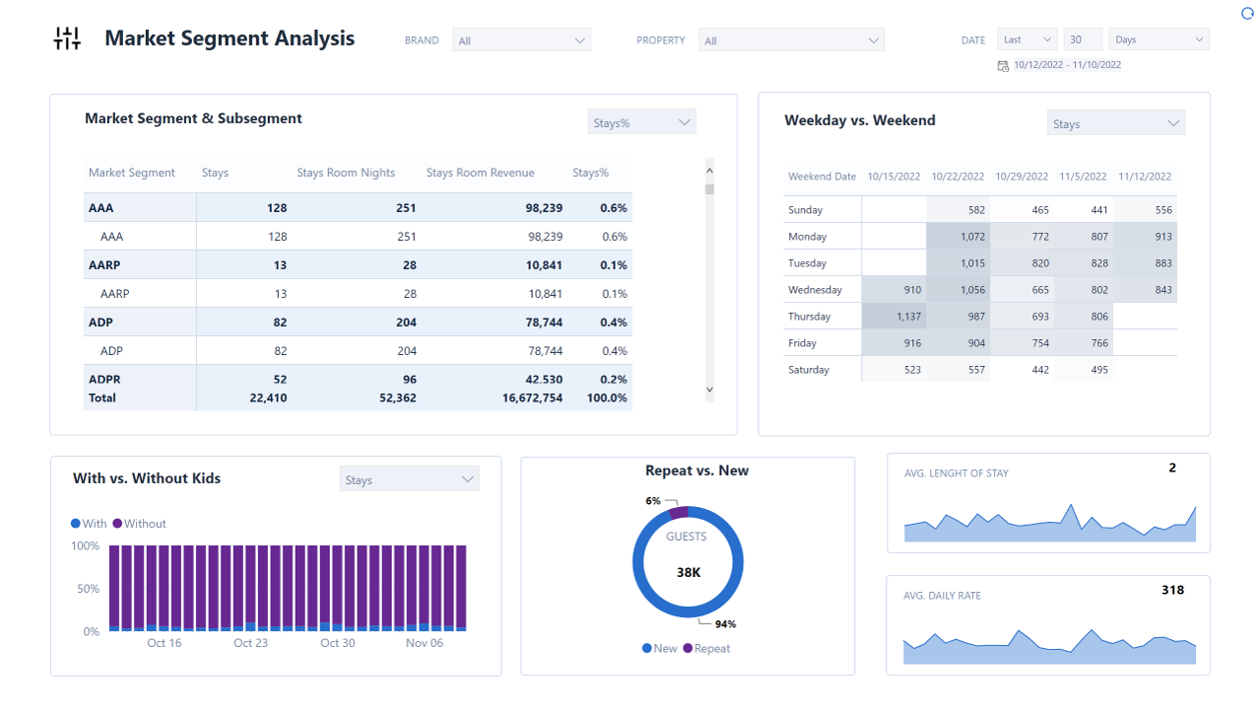 Source Analysis & Trending
Room Revenue by Stay Date has several options to chose from in the dropdown for investigating revenue metrics by source.
Available options include Rate Type, Room Type, Source of Business, Market Segment, Channel Code, IATA Name, VIP Code Description (if configured), MSA, Region, and Loyalty Member flag (if supported).
Dashboard is filtered by Booking Date and supports dynamic currency conversion for configured property currencies.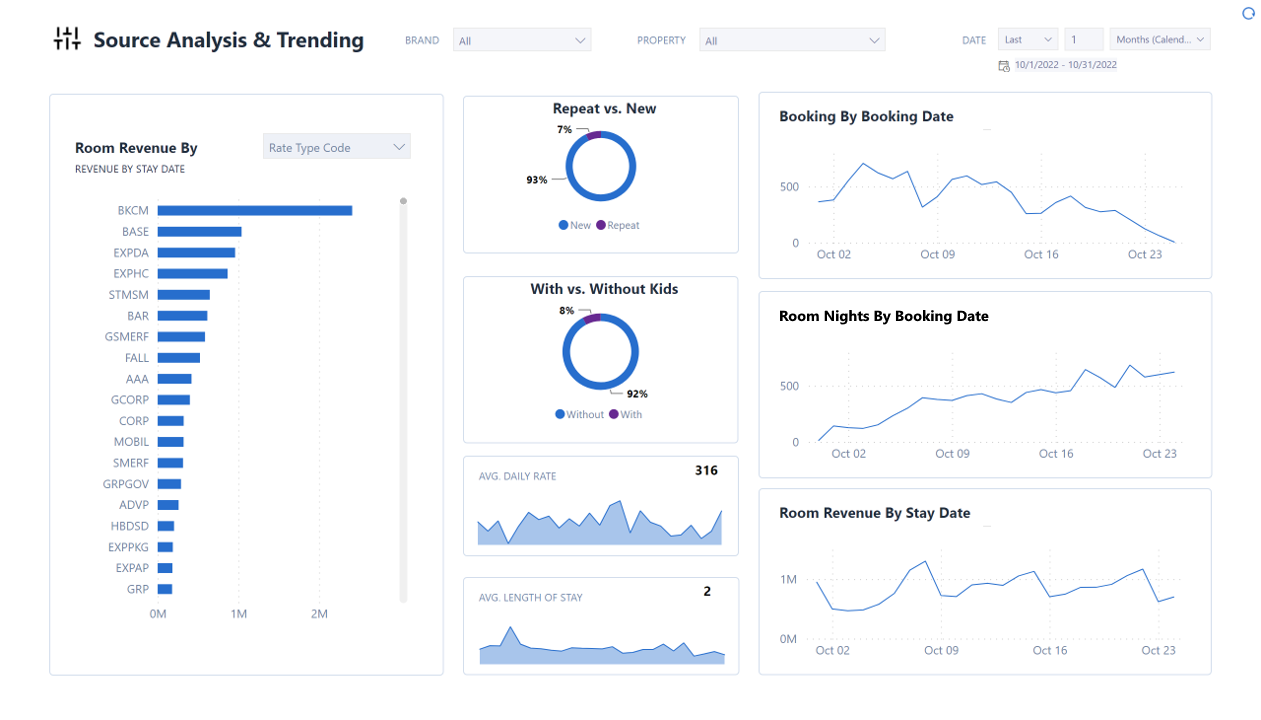 Data Explorer
Data Explorer allows each supported metric to be decomposed into its component pieces.
Supported metrics can be selected from the dropdown located on the top lefthand side.
Selecting the + icon to the right of any value will expand a choice of dimensions to further breakdown the totals.
High Value and Low Value will calculate and automatically select which fields are significantly higher or lower.