Create custom groups of non-guest members who have some kind of annualized membership within your loyalty program for marketing and awarding purposes. For example, if you have residents in addition to guests at your property, you could create a "Residents" Member Group. You could then use that Member Group to facilitate the annual renewal of resident leases.​​​​
Or, let's say you want to recognize event planners who have booked events at your property or market to individuals who have had their wedding at your property. Since those individuals aren't likely to be associated with stays at your property, you wouldn't want to register them as traditional loyalty members. Instead, create Member Groups for those groups and configure awards specific to them.
Select Loyalty Setup
Select the Loyalty Setup tab from the main navigation.

Note
Your company's configuration determines which tabs are present in the Loyalty Setup tab.
Only Admin users can add Member Groups.
Add Member Group
Select the Member Group tab, then +Add.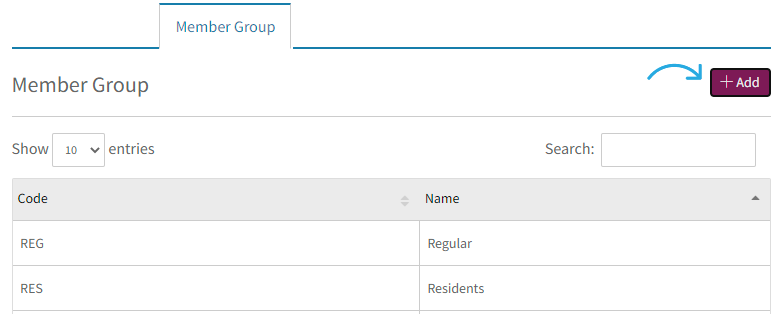 Enter a Code and a Name for the new Member Group and select Save.

The new Member Group you created will now appear in the Member Group table.
Batch Upload Members
Learn how to batch upload members here. Any Member Groups you've created will automatically appear within your pre-formatted template.
Configure a Loyalty Award for a Member Group
Read how to configure an Anniversary-Based loyalty award for a Member Group here.