Contacts in eInsight Sales are key to the relationship of salespersons and sales teams with actual people that work for Accounts or can be leads and opportunities that bring potential business to the hotels.  There are six menu options in the Contact module; Create Contact, Create Contact from vCard, View Contacts, Import Contacts, Recently Viewed, and Favorites.   
Note
All contacts are shared with eInsight CRM for use in sending sales marketing campaigns.
Create Contact
To create contact, hover over Contacts and then select Create Contact.

When creating a contact, there are three sections. The first section is the Overview; the second section is More Information, and the third section is labeled Other. Required information has an asterisk (*) next to that field but fill out as many fields as you are able to and identify relationships to Accounts where possible.  Likewise, keeping a current email address and or phone number ensures your ability to reach the contact.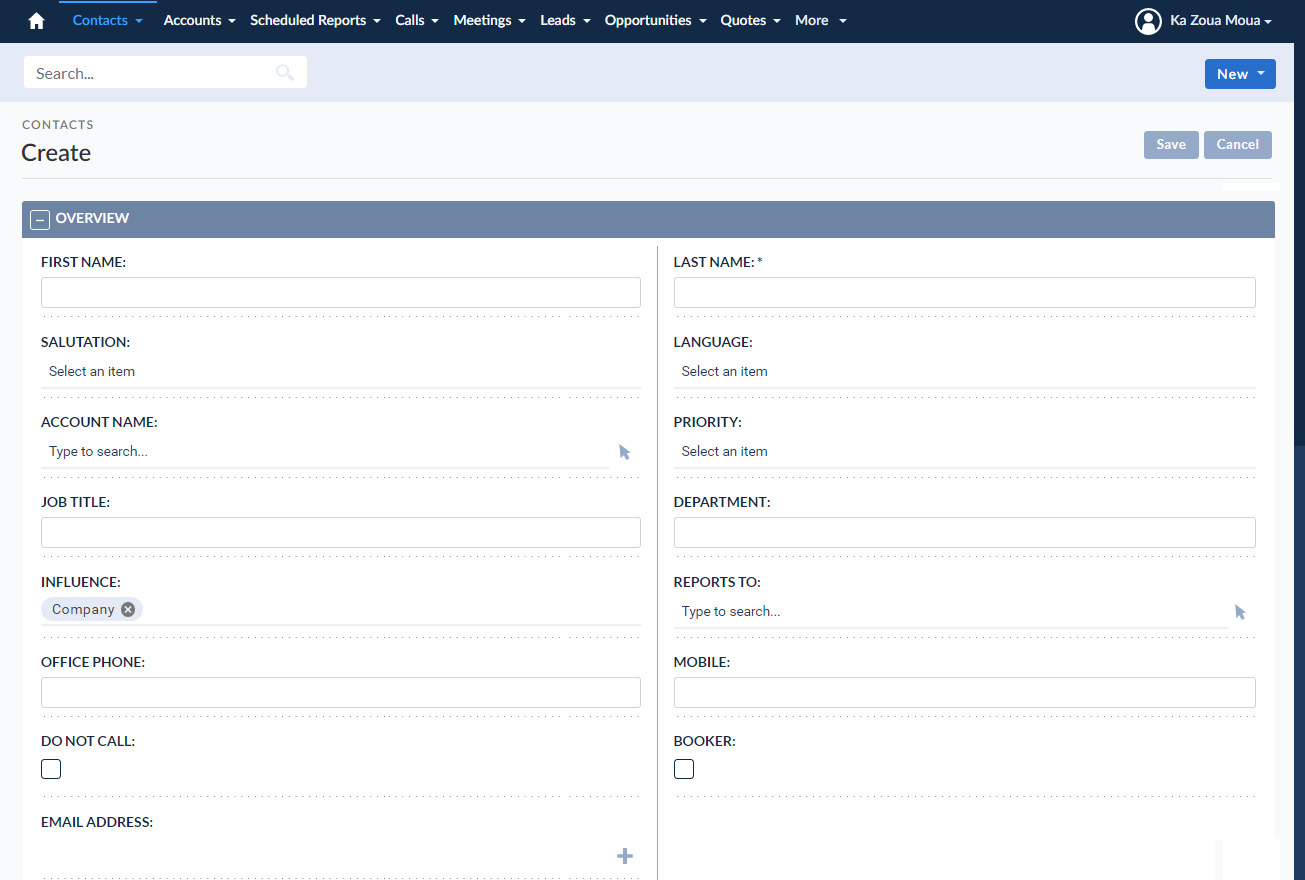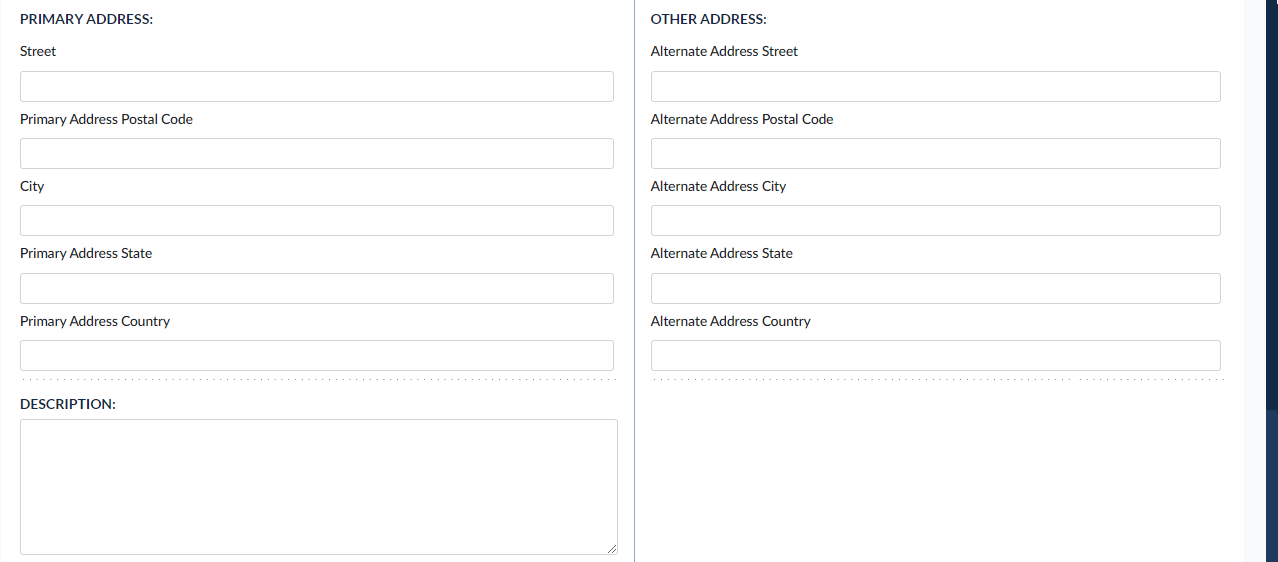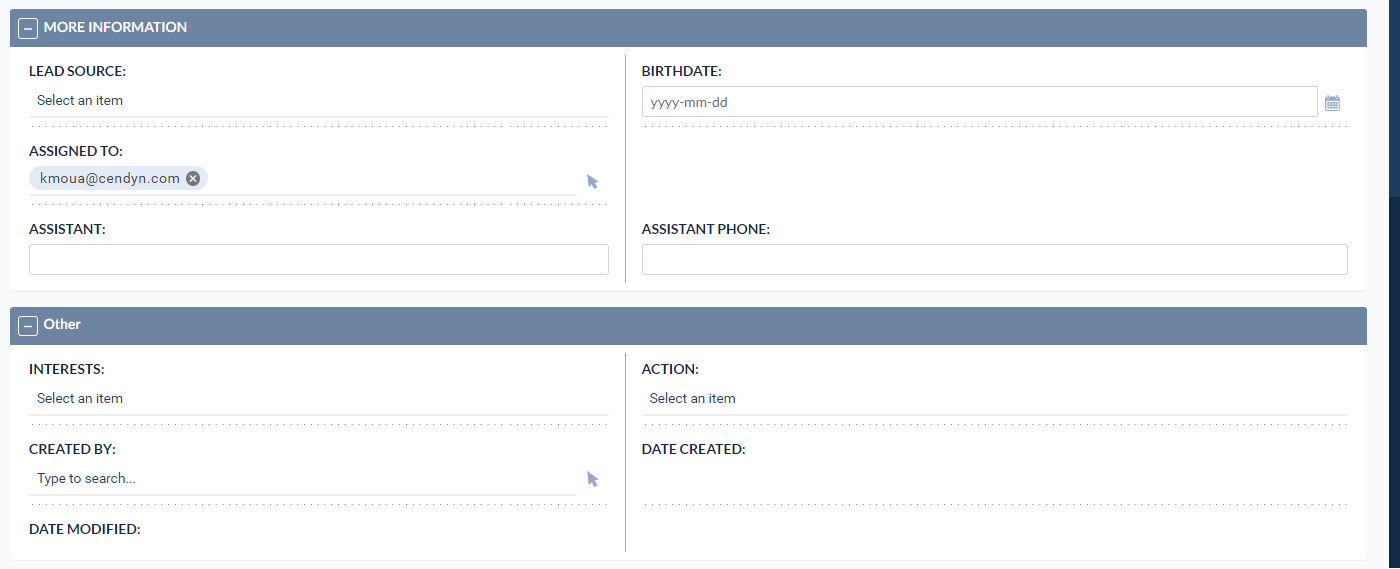 Create Contact From vCard
If contacts were collected, for example, at a trade show or convention, there is a feature to import those leads. The feature for this in eInsight Sales requires the import to be a VCF type file.  To import a VCF with lead information hover over Contacts and then select Create Contact From vCard. Select Choose File, upload the VCF file, and then select Import VCard. 


View Contacts
To view any existing contact, hover over Contacts and then select View Contacts.  

From the list view, there are a few available options:
Filter
To filter the list of contacts, select filter. The basic filter appears. Use any combination of filters to search for the contact you are interested in.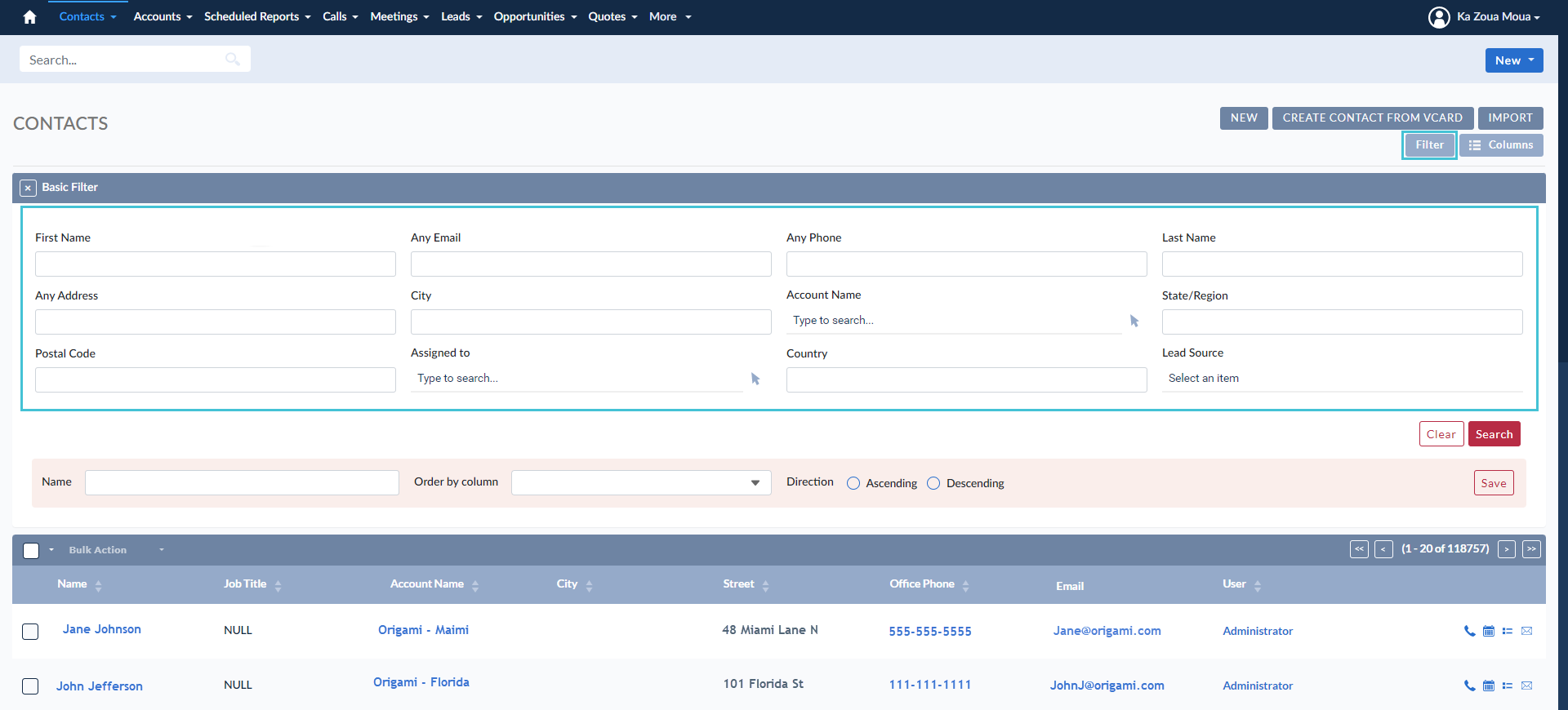 Click on the name of any contact to view the contact record.
Contact Insights
Once you select a contact to view, select the Insights button to view a panel at the right-hand side.  This panel displays a timeline of all history with that contact, such as emails sent, calls made, updates to addresses, etc.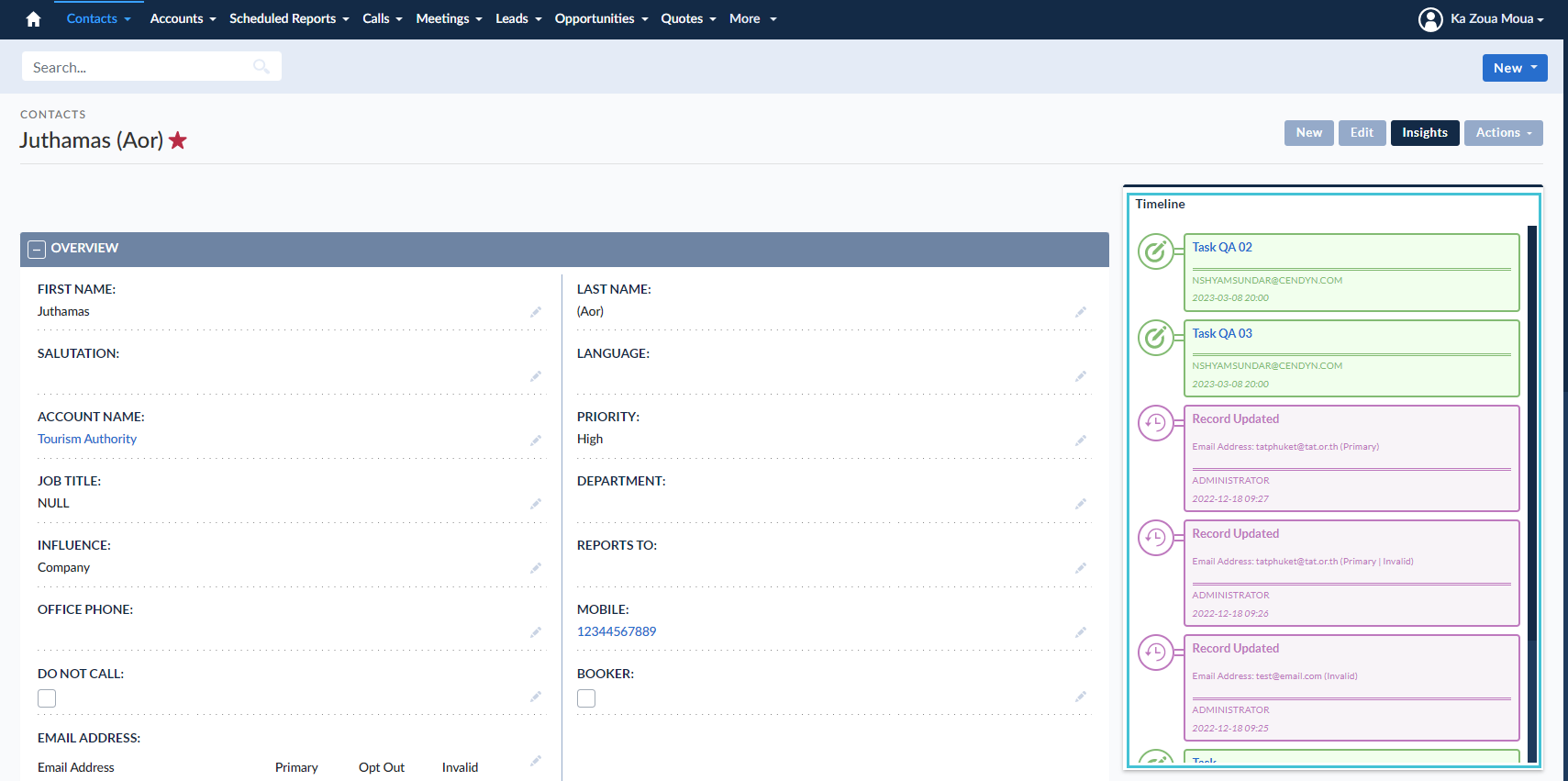 Contact Subpanels
When viewing a contact, there is a selection of Subpanels at the bottom of the contact record. Each provides a little more detail about that contact and it's relationships with other entities in eInsight Sales, such as Accounts, Contracts, or Leads.  
Select any subpanel to display a section at the bottom of the contact record that lists any records associated with the contact.  Below is the list of potential subpanels and some information available in each:
| Subpanel Name | On Display |
| --- | --- |
| Activities | Any phone calls or meetings completed or scheduled |
| Cases | Total number of open cases & total cases submitted |
| Contracts | Any contracts with this contact associated |
| Quotes | Any quotes sent to this contact |
| Documents | Upload and store documents associated with contact |
| History | Date of the most recent interaction |
| Leads | Any past or current leads associated with the contact |
| Opportunities | Any past or current opportunities by the contact |
Edit Contact
To edit data on a contact select the Edit button from the Contact record view. 

Make any applicable changes and select Save.
Find Duplicate
To find and resolve any duplicate contacts, open the contact record and select Actions > Find Duplicates. 

From the list of Available Fields (1), select a field to search for any contact records that have duplicate values in those fields.  Selecting any field moves that field name to the right of the screen under Filter Condition (2).  Next to the selected field (3), enter the text values in all fields next to "Contains" that you intend to search for duplicates.  Repeat these steps for any other available fields.  Finally, select the NEXT STEP button to display the list of contacts with the same values in the fields you selected.
Note
The fewer filters you select, the broader the search, and the greater the list of results.Likewise, the more filters, the more refined the search, the fewer list of results.
Note
To add filters, select the filter (1) and then select the arrow icon (4). To remove filters, select the trash icon (5).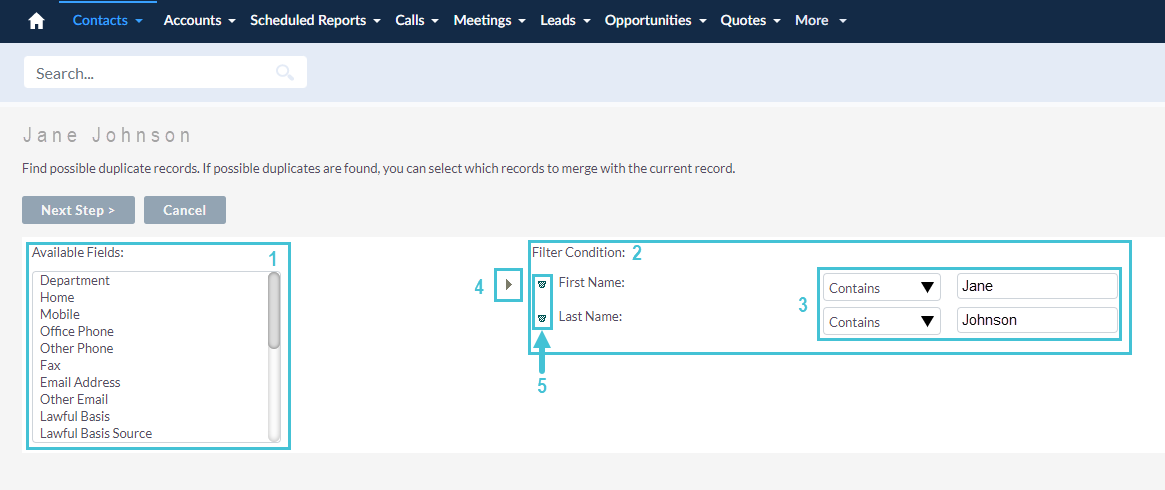 Import Contacts
To import a list of new contacts, perhaps from another system, or to update a list of existing contacts, hover over Contacts then select Import Contacts. 

Select Download Import File Template.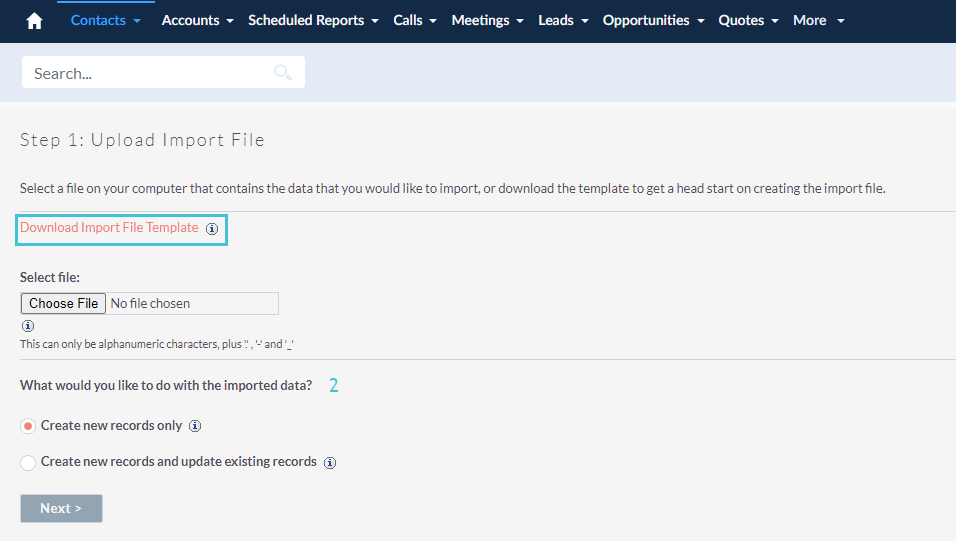 Complete the template as directed by the notes in the template. Save template as CSV file. 
NOTE:  The template lists a few data records, such as contacts, that already exist in the system as a sample of data that you might enter for each contact.  Make sure that any new contact records you add to the template at least have all required fields to create a contact and basic data such as First Name, Last Name, Phone, Email, etc.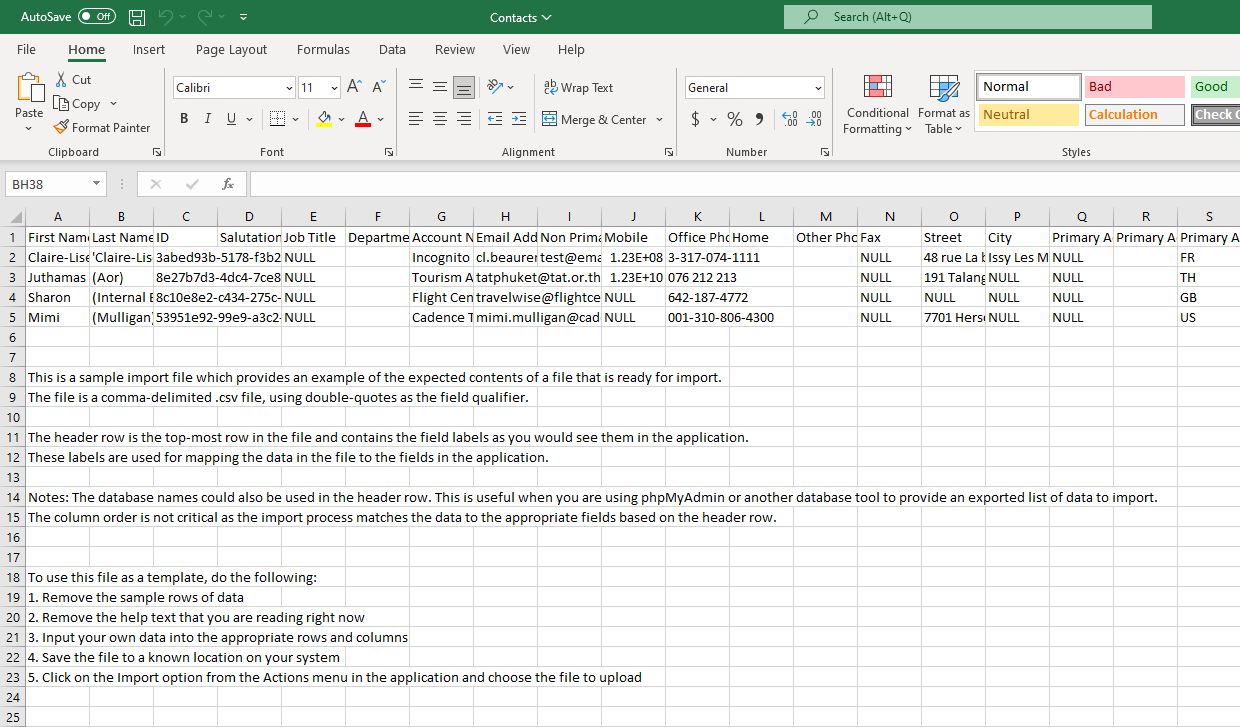 To upload and save a Contacts template file, select Choose File. Determine and select how you would like to import the data (create new records only or create new records and update existing records), then select Next.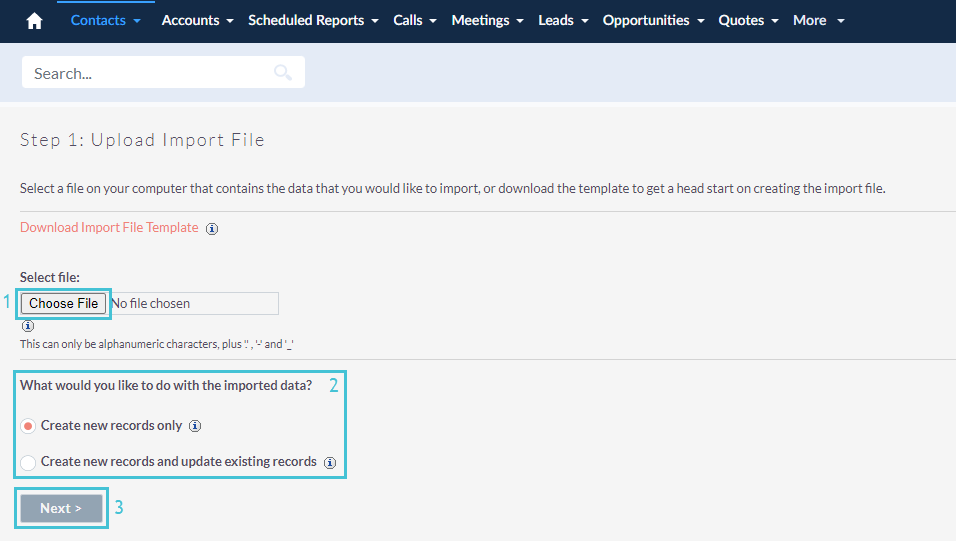 The new contacts (or updates to existing contacts) are imported.
Note
If any records cannot be imported or updated due to missing data in the file, or should an error occur, contact your administrator for assistance.
Recently Viewed
To access contacts you recently worked with or viewed, hover over Contacts and then Recently Viewed to expand the list. You can select the contact you want to access from here.

Favorites
You can mark a contact as a favorite by selecting the star next to the contact's name on the record.
To access the favorites menu tab, hover over Contacts and then over Favorites. The contacts you have marked as favorites will display.