Exciting news! 🚀

At Cendyn, we're taking a giant leap towards enhancing transparency and keeping you in the loop about our top-notch services. We're thrilled to announce the grand unveiling of our brand-new Service Notification Center launching today. 
What's in it for you? Well, here's the scoop: You, our valued customers, can now be at the forefront of service updates.
How? It's simple!
📩 Subscribe to our real-time service notifications via email. This means you'll always be the first to know about expected downtime due to planned maintenance or any other unexpected hiccups. We've got your back!
🔖 Prefer to keep it handy? No problem! You can also bookmark our centralized Service Notification Center for a quick and easy glance at all the latest updates.
We're making it effortless for you to stay on top of your service availability. Our commitment to your satisfaction has never been stronger.
🌟 The future of service notifications is here, and it's brighter than ever!
How to subscribe
Log into your Customer Portal.
Click on Service Notifications at the top of the Cendyn Knowledge Cloud page.

Select a product you'd like to receive notifications about.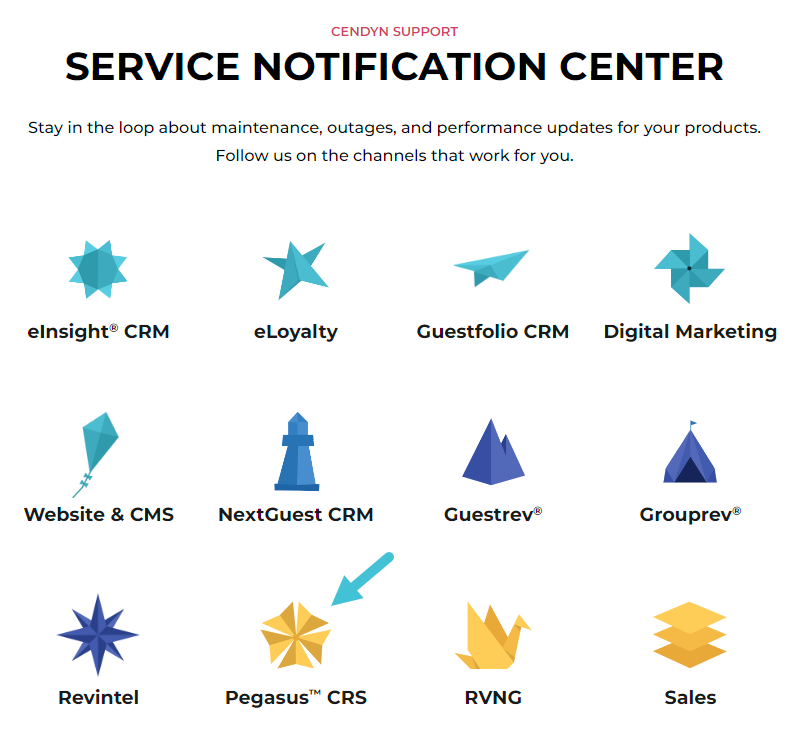 Click Follow below the section title, then choose New notifications and updates. 

Repeat these steps to subscribe for other products, as desired.