You have the flexibility to create email campaign templates using Studio Editor or our long-standing Classic Drag-and-Drop, or Custom Code editors. This article will link you to all the available articles available for each editor: Studio Editor, Drag-and-Drop Editor, and Custom Code Editor.
There are three editors available; however, if you create a template using one of the editors, you can only make edits to the template using the editor you originally built the template with.  There is not an option to convert a template built with one editor to another editor.  

Note
If you only have the Studio Editor as a choice when creating email templates, and would like to explore using one or more of the additional editors, please contact Cendyn for assistance.
When viewing a list of previously created templates, the editor used to build each is clearly labeled and identified on each template in the list. When you click to edit the template, it will open in the editor it was originally created in.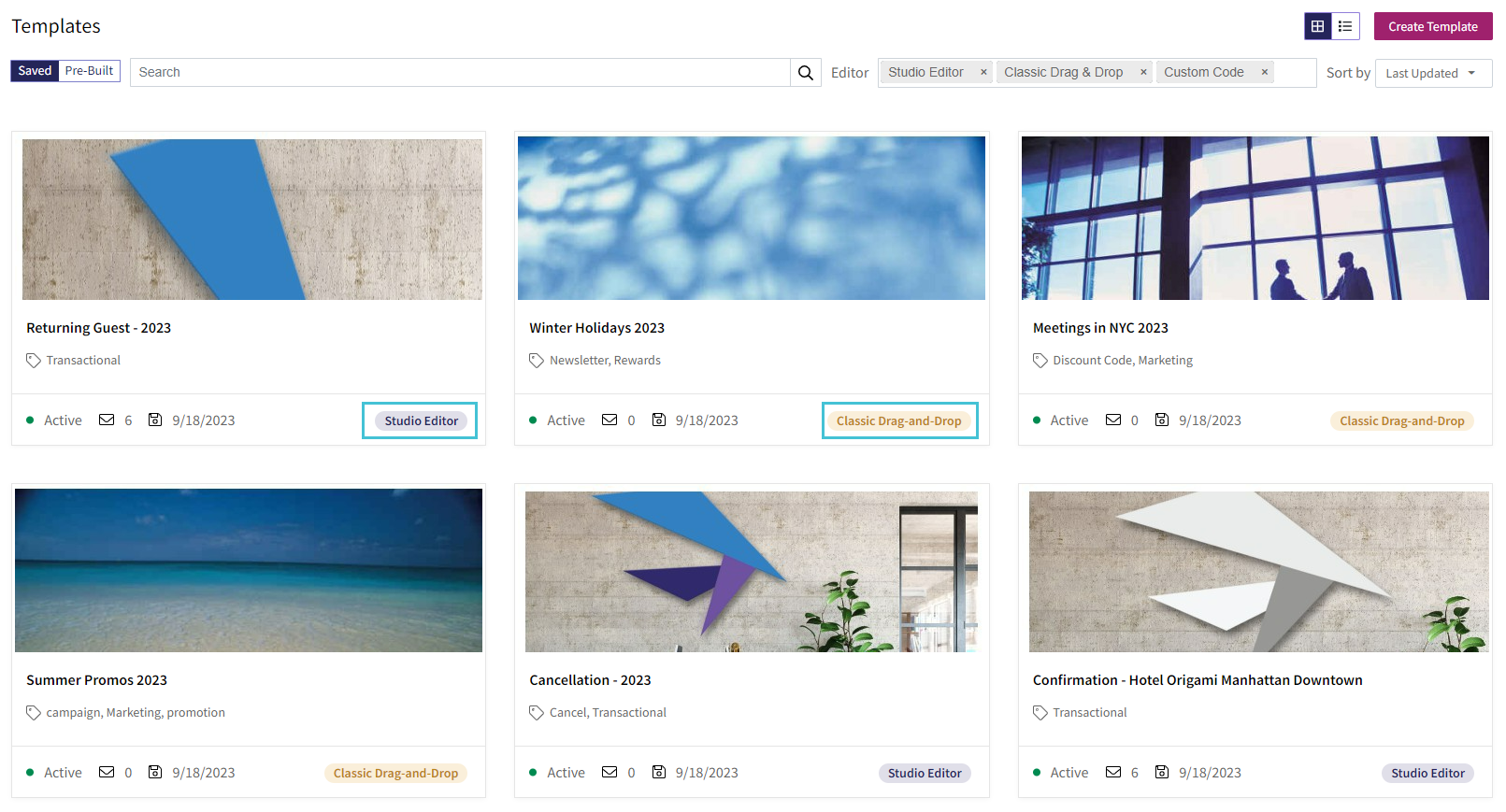 Studio Editor
Studio Editor has easy-to-use pre-built elements you can quickly use to customize your brand content. You can also create dynamic content and set rules to personalize campaigns for specific audiences/individuals.  This editor is best used by template builders that like the familiarity of dragging-and-dropping content blocks into the template, need to add personalization tags and dynamic content, but also want the flexibility to edit some HTML code.
Studio Editor Main Article, which will provide numerous links to the all the available articles:
Classic Drag-and-Drop
Classic Drag-and-Drop editor is ideal for quickly adding elements into a simple template that offers basic customization without the need for dynamic content.  Template builders that typically use this editor need to create a quick, yet engaging email template with minimal personalization, without the need for HTML coding.
Classic Drag-and-Drop Editor Support Articles:
Custom Code
Custom Code editor is ideally for those who are HTML savvy and want to create a highly bespoke template with HTML coding, or simply want to import existing HTML code into a new template.  With this template builder, you also have full control with personalization tags and dynamic content.
Custom Code Editor Support Articles: