Authorized Approvers can approve and schedule campaigns within eInsight CRM.
Access the Authorized Approvers Tab
Select the circle icon containing the first initial of your name in the upper right corner to view a drop-down list.

Select Admin from the drop-down list.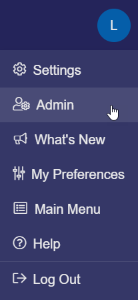 Select the Authorized Approvers tab or select All Tabs > Authorized Approvers.

Tips
If you don't see the Authorized Approvers tab, contact your Cendyn Customer Experience Team to request that it be enabled.
Add an Email Address
To add a new email address, click Add.

Enter a new email address and check the Active box in the Approver Editor window. Select Submit.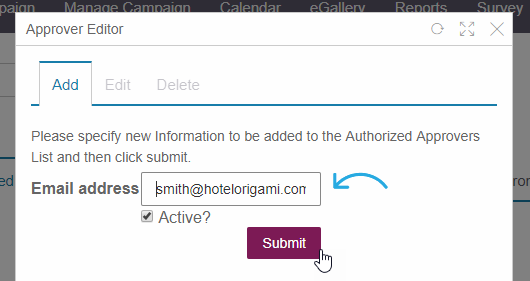 The new email will appear in the Authorized Approvers list.

Edit or Delete an Email Address
Email addresses can be modified or deleted using the Edit and Delete buttons on the right of the address you wish to alter.