Custom Domain Exclusion allows you to exclude specific domain names from all of your campaigns, regardless of which property is sending the campaign. Use this time-saving feature to exclude OTAs, domains that have been flagged as spam or corporate email domains that shouldn't be sent marketing emails.
Note
The Custom Domain Exclusion applies to all campaign types for example, transactional, marketing, and post stay emails.
Access the Custom Domain Exclusions Tab
Select the circle icon containing the first initial of your name in the upper right corner to view a drop-down list.

Select Admin from the drop-down list.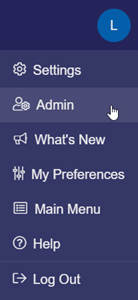 Select the Custom Domain Exclusions tab or scroll through the tabs using the arrow on the right side of your screen to select the Custom Domain Exclusions tab.

Add a New Custom Domain Exclusion
Select Add.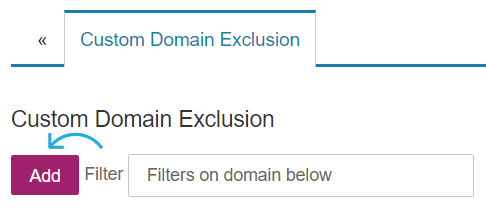 Enter the domain in the new window and select Submit.
Note
You do not have to add the @ symbol per the example below.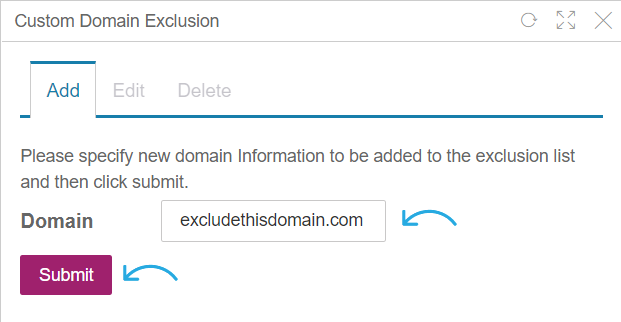 Domain Exclusion Use Cases
Receiving generic, rather than authentic, guest email addresses from OTA-booked stays can negatively impact your remarketing efforts. You now have the option to minimize this issue by globally suppressing the OTA domains across your transactional and marketing campaigns. No need to edit individual lists.
If Email clients (ISPs) detect a domain in your send list that they've flagged as spam, they might delay or disrupt delivery to the other emails in your list. Exclude the bad domains to prevent them from interfering with the delivery of good domains.
In some circumstances we can try to work with email clients to remove blocks on specific domains. You can exclude domains while the problems are being addressed and then remove the exclusions if, and when, the blocks are resolved.