While the Criteria Editor is capable of building the audience based on a complex criteria, you may receive an error because it takes the system too long to get the counts.
When the audience criteria is too complex, the audience counts can fail to load or the counts may load as 0. If this happens, it is recommended that the hotel open a ticket with the Global Support Team to investigate of the criteria is too complex and a custom cluster may be required.
A cluster is a SQL query is an alternative the can be used if the required criteria is too complex.
In the latest version of Criteria Editor, select Clusters to reveal the cluster filter.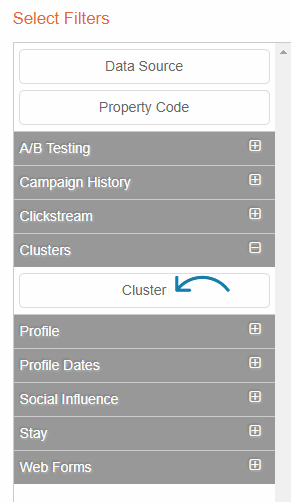 In the older version of Criteria Editor, select Legacy to reveal the cluster filter.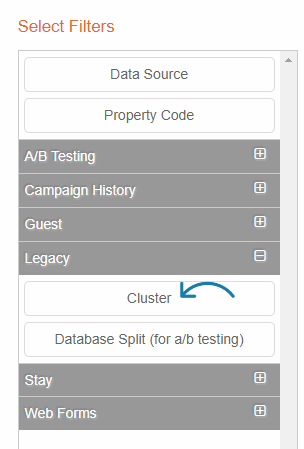 Once you bring the Cluster filter, you can look at the available clusters and if you hover over the name of the cluster it tells you a brief description of the definition.

Note
Filters will only work on a cluster if the type of data specified in the filter is included in the cluster.
Tips
When excluding from a cluster or excluding a cluster from a Data Source, the Exclude by Email filter has been found to be the most efficient.
Additional Information
Clusters are created & modified by the eInsight Development team.
The criteria for a cluster is provided by the hotel and the eInsight team designs the specific SQL query and assigns it to a custom Cluster name in the hotel's database. Not all hotels will need to take advantage of Clusters.
To initiate a new cluster or modify the criteria, please contact your CRM Account Representative, or reach out to the Global Support Team.