When an email recipient replies to an email, it will be sent to the pre-populated Reply Email Address.
Select a Reply Email
Navigate to Campaigns > Manage. Locate your campaign. Click the Vertical Ellipsis Icon, then select Edit to jump to the Template tab.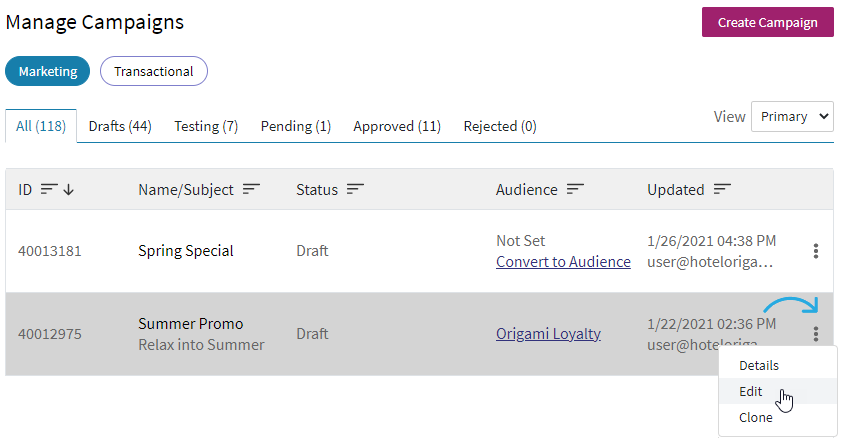 Select a Reply Email from the drop-down list.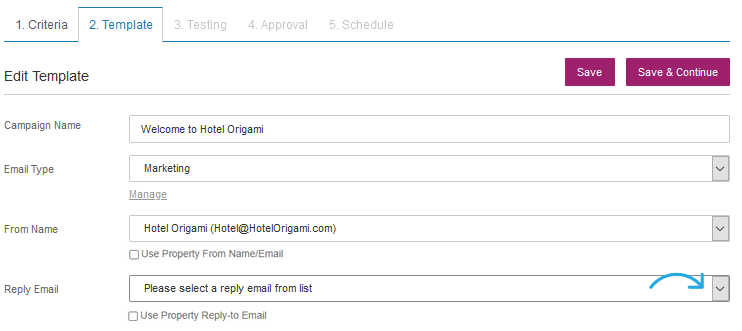 Personalize the Campaign "Reply-to Email" by Property
Check the Use Property Reply-to Email box on the Template tab to dynamically fill the Reply Email field with the appropriate property email. For example, a brand-level company sends campaigns out on behalf of its 50 affiliated properties. When the Use Property Reply-to Email box is checked, the same campaign will be sent to the mailing lists of all 50 properties but the Reply Email will be personalized for each property.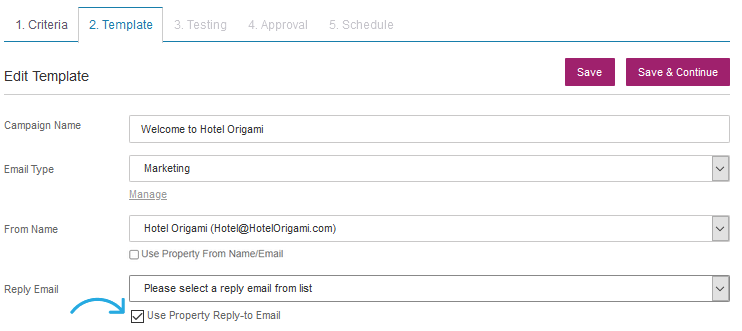 Note
Only clients with a corporate instance can send transactional campaigns on behalf of their properties from the brand level, eliminating the need to create multiple campaigns at the property level. Please contact your Cendyn Customer Experience Team to enable this feature. Once it is enabled, add a Reply Email Address for each property in your portfolio. When creating a campaign, check the box for Use Property Reply-to Email. Using email address mapping, eInsight will dynamically populate each property's Reply-to Email.
To add or update a Reply Email please contact producthelp@cendyn.com.