Use the select panel to easily manage and rearrange elements in your email. You can name them, drag and drop them in a new order, and show or hide them.
Manage Elements
Once you've inserted elements such as text boxes, images, buttons or dividers, you can open the select panel to keep track of them all. The elements are listed in the panel in visual stacking order—top-to-bottom. The most recently inserted element is at the top of the list.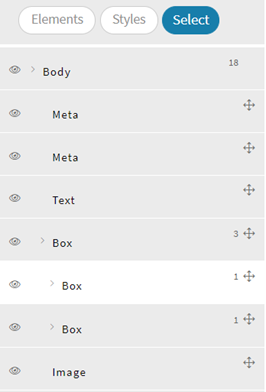 View Nested Elements
An Expand icon indicates that an element has nested elements within it.

The number displayed on the element indicates how many elements are nested within. Select the Expand icon to expand the element and view the nested items.

Change the Order of the Elements
In the select panel, click the Move icon for an element to drag and drop it to a new position in the list.

Show/Hide Elements
When an element is visible, you'll see the Eye icon.

Click on the Eye icon to hide the element. Hiding an element keeps it in the file, but makes it invisible. This feature should be used with caution, because it can be easy to entirely forget about a hidden element. A hidden element is grayed out and shows the Slashed Eye icon.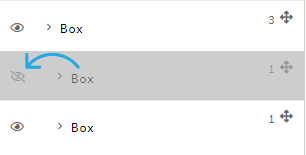 Tips
To see an element that's under another element, you can hide the element on top temporarily, make the changes you want, and then show the element on top again.
Rename Elements
Select an element, then double-click on it. Type in a new name and select Enter. This comes in handy if you use the Selection Pane frequently.