Use the Studio email editor if your campaign contains personalization tags and/or dynamic content. This primarily pertains to transactional email campaigns.
View and Edit the Default Rule
Highlight or select the content to which the new rules will be applied. This could be an image, a text box, a paragraph, sentence or individual word. Then select the Dynamic Content icon to open the Manage Dynamic Content editor.

Select the Expand icon to view the Default rule.

Select the Edit icon to edit the Default rule.

Use the toolbar to update the Default rule, if necessary. Select Save.

Create a New Rule
Select +Add Rule to add a new rule.

From the first drop-down list, select a filter (e.g., Rate, Stay, etc.).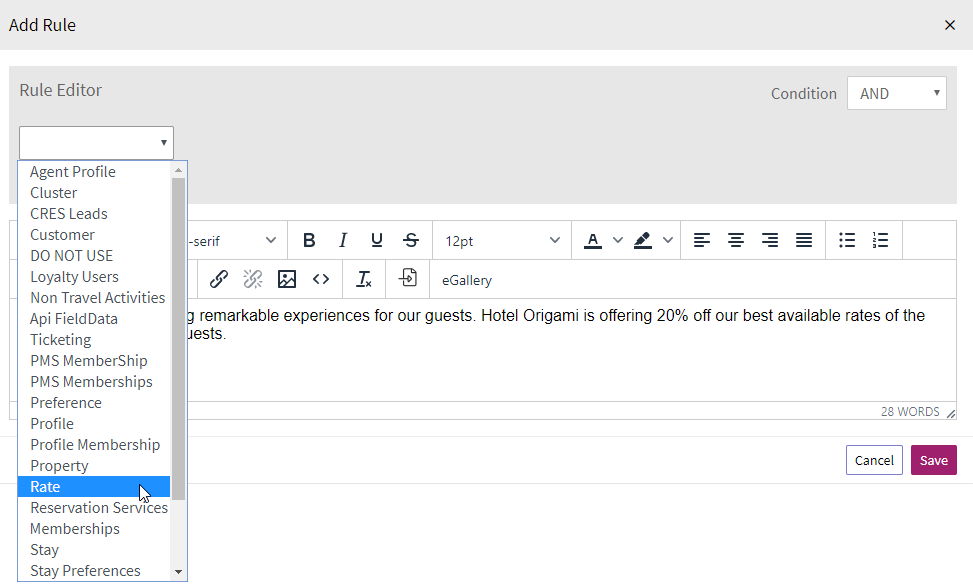 From the second drop-down list, select a secondary filter (e.g., Currency Code, Stay Rate Amount, Stay Rate Type, etc.).

Select an operator from the next drop-down list (e.g., Equals, Not Equals, Greater Than, Contains, etc.).
In the last field, enter a value or select the magnifying glass to choose an available value.

Select +Add Filter for each additional filter you wish to add to the rule. Follow the above steps for each new filter.
Note
If you use multiple filters, they all must use AND or OR.
Select Save when you have finished adding filters.
The new rule you created will now appear below the default rule. Select the Edit icon for the newly created rule.

Enter and format the content that will display in the email when the criteria of the operator(s) and entered value(s) in the rule editor fields are met. Then select Save.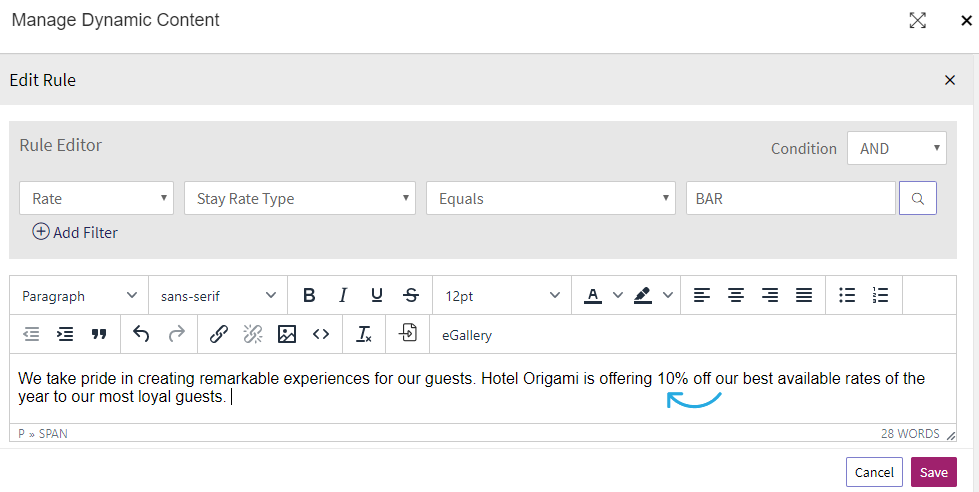 Create More Rules
Select +Add Rule as many times as needed and repeat the steps above to create more rules for the same content.