In your campaign, you can include links to files or images that are hosted in eGallery. When a recipient clicks one of these links, your file or image will open in another window. This allows your recipients to open and view many different file types and prevents large files from disrupting your email deliverability.
Note
The Code Editor was formerly referred to as the "HTML Editor."
Navigate to Campaigns > Manage. Locate your campaign. Click the Vertical Ellipsis Icon, then select Edit to jump to the Template tab.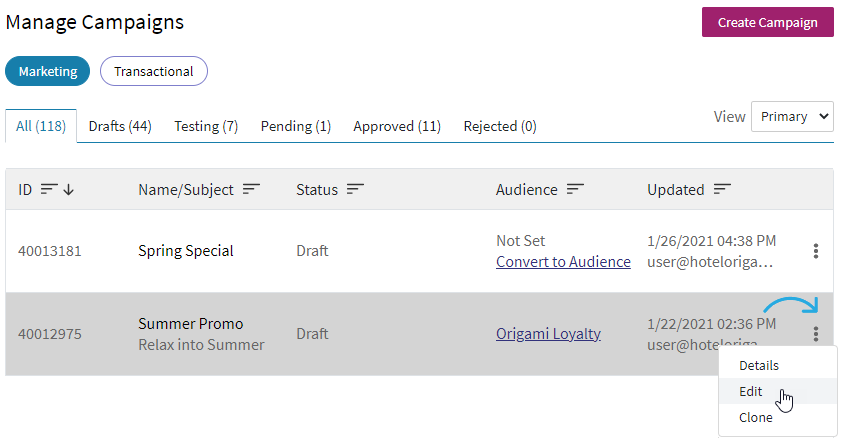 Upload Files to eGallery
Select the Upload to eGallery button from the toolbar.

Your Home Folder will open in a new tab displaying four or more folders. You can create subfolders in and upload files/images to three of these folders:
Shared_Company: Upload to this folder files or images that should be accessible to all properties under the same parent company.
Files (yellow): Upload documents to this folder. Acceptable file types are pdf, doc, docx, xls, xlsx, ppt.
myfiles (blue): Upload images to this folder. Acceptable file types are jpg, bmp, png, jpeg and gif.

After selecting a folder, select Create Folder if you would like to create a new subfolder. Repeat this process to create a folder hierarchy.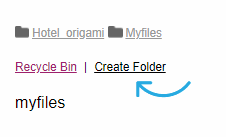 After selecting a folder, select Upload Files or Upload Images to upload your files/images to eGallery.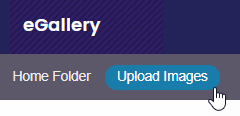 You can close the tab and return to eInsight when you are finished uploading items to eGallery.
Info
The Stock (green) folder contains royalty-free stock images you can use without worry of licensing costs. You cannot create folders in or upload files/images to the Stock folder.