Gain a better understanding of where your email is headed, Inbox or Junk, before you sent it. Inbox Forecaster estimates the success of your campaign reaching your guests' inboxes prior to sending.
About the Inbox Forecaster Report
The Inbox Forecaster report estimates the success of your campaign reaching your guests' inboxes prior to sending, broken down by the most commonly used email clients (ISPs). The report is produced by sending your campaign to test email accounts, not to your actual guests. To ensure accuracy, these test email accounts are of non-engaged recipients, meaning that campaigns sent to the email accounts have never been opened.
Request an Inbox Forecaster Report
After creating and saving your campaign in the Template tab, you are taken to the Testing tab. Select Submit Request under Inbox Forecaster.
You will see a message saying that your request is in queue. Select Proceed to continue.
When you click Proceed, you are taken to the Approval tab. Place your mouse over the Inbox Forecaster button, to see a list of your report requests, sorted by date and time. Click on the most recent request to open the report. The data in your report will be updated every 5 minutes for up to 24 hours after being generated. To view the updated data, reopen the report and refresh your browser.
Alert
It is not recommended to request more than one Inbox Forecaster report or a
Send to Test Email
for the same campaign within a one-minute period.
Note
Another way you can access your Inbox Forecaster report results to navigate to Campaigns > Manage. Locate your campaign and click the campaign name. Click on the Testing tab. Select Advanced.
Here you can review the results of the latest report by selecting Launch or select Request New Forecast to create a new report. You can also view results from an Inbox Preview report, or request a new one, from here.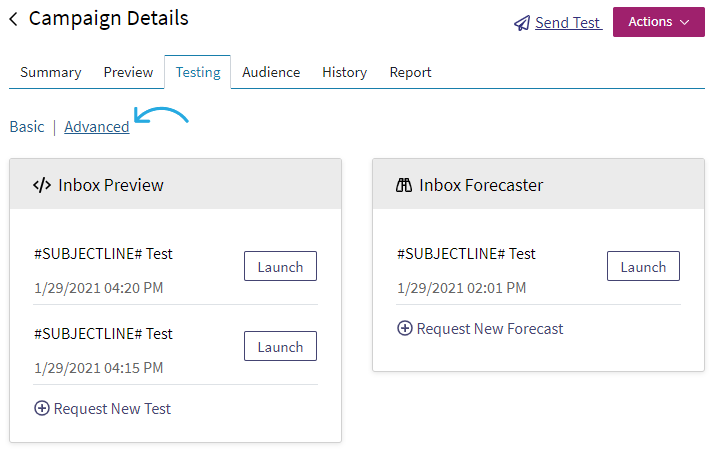 Sample Report
Contact your Cendyn Customer Experience Team for assistance with addressing any concerns revealed by the Inbox Forecaster report.