Schedule Reports
Schedule particular days for reports to run automatically.
Reports Tab
Select Reports from the main navigation.

Locate a Report Definition
Use the filters at the top of each column to locate your desired report definition faster.

Tips
You can also click the arrow at the top of any column to sort the table by that field.
Schedule a Report Definition
Select the Schedule icon for the report definition you'd like to schedule.

Schedule the report by choosing the radio button for one of these categories and then selecting option(s) within the category:
Weekly: Choose one or more days of the week to run the report.
Monthly: Choose one or more days of the month to run the report.
Special: Choose if you'd like the report to run on the first day of the month and/or the last day of the month.
Select Save.
Note
You must choose either None, Weekly, Monthly or Special. You cannot choose more than one category.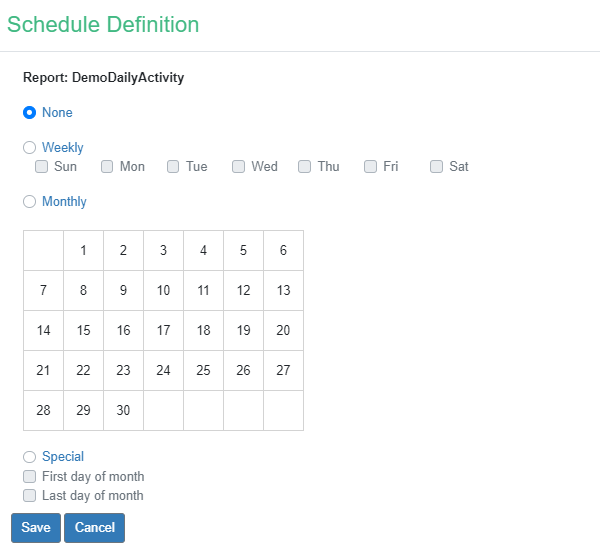 Saved schedules appear in the Schedule column on the Definitions tab.

Has Schedule Filter
Check the Has Schedule checkbox to display only definitions that have been scheduled.