Pricing
The Pricing function allows you to mark pricing recommendations for upload, override and mark for uploads, make a recommendation or an override persistent, and send the recommendation or override to the PMS.
The Pricing tile displays the following by control segment:
Previous recommended rate
Current recommended rate
Override of a recommendation
Low and high recommended rates*
Persistent rate designation
*If details are shown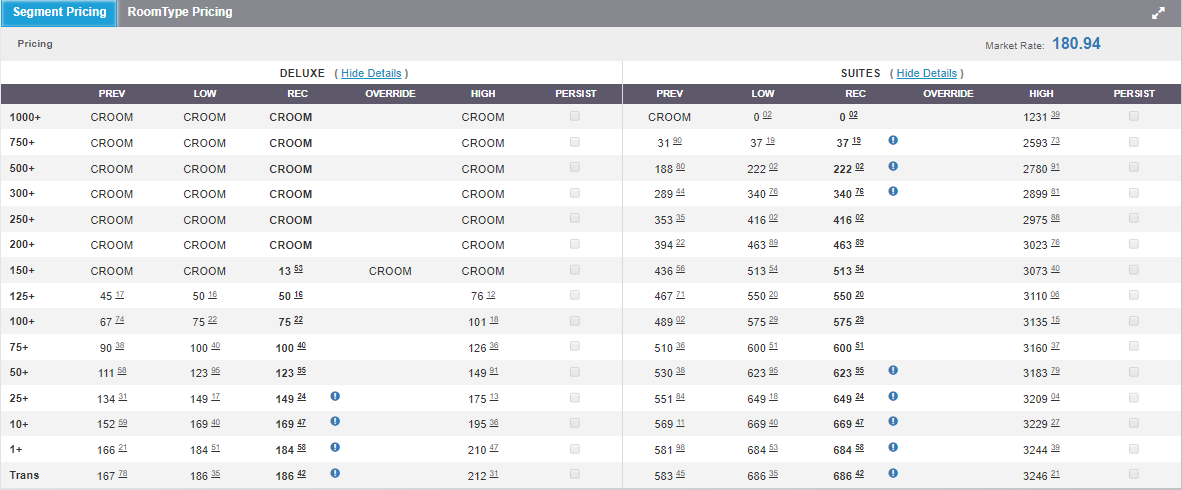 Pricing Recommendation Influences
Included in the pricing are additional details on how the recommended rates were derived. An Exclamation Mark icon (

) displays next to a pricing recommendation indicating that the rate was influenced. To determine what influenced the rate, hover over the

for details.
Rate Influence Types
Competitive: Influenced by competitive influence
Elasticity: Influenced by elasticity
Min or Max: Influenced by min bid price or Influenced by max bid price
Room Upgrade Adjustment: Influenced by room upgrade adjustment
User Override: Influenced by user override
If there is more than one rate influence, all of the influences will appear in the hover.

View Recommended Rates
To view or hide the high and low recommended rates, toggle the Details/Hide Details link.
Pricing Tile with Details Hidden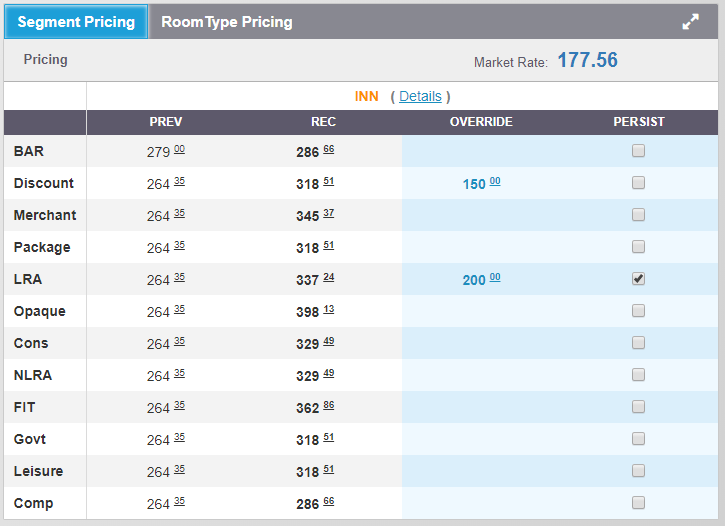 Pricing Tile with Details Shown

View Market Rates
Your property's market rate is displayed in the upper-right corner of the Pricing tile. Select Market Rate to view a list of your competitors' market rates.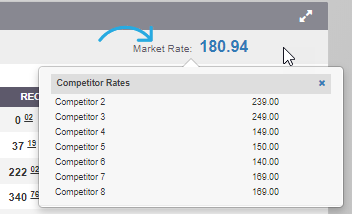 Override Recommendations
When there is no override to a rate, the Rec rate is the system-generated rate. To override a pricing recommendation:
Click the Override column.
Enter the desired override value at the control-segment level. You can only enter numerals in the override field.
To make the override persist, select the Persist check box.
Tab or click outside of the Override field. The override value is saved automatically and the day is marked for upload.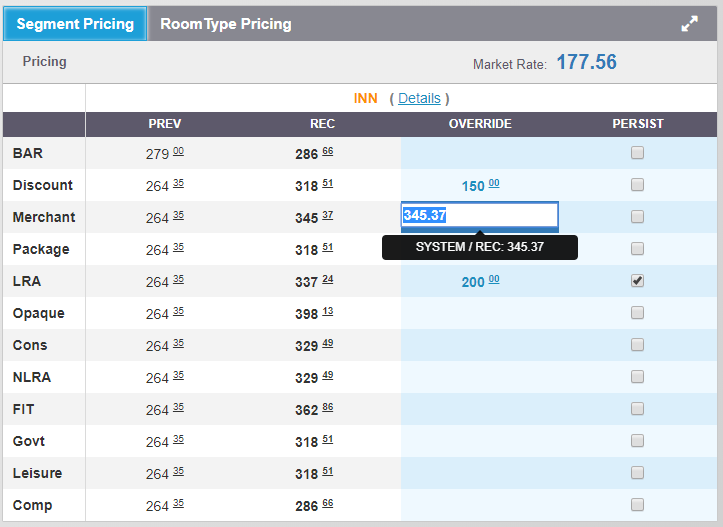 Alert
In order to override a recommendation, you must have override permissions.