With eUpgrade you don't have to be an HTML expert to create sharp-looking upgrade offerings.
Navigate to Upgrade Types
Select Upgrade Types from the main navigation bar.

Select a Hotel
If you have access to only one property, by default, your upgrade types will be displayed. If you have access to more than one property, select one from the drop-down list. Then select Search to view that property's upgrade types.

Edit an Upgrade Type
Select the Edit icon to edit an existing upgrade type.

Format and Style the Upgrade Type Description
The description you enter for a room upgrade or add-on type appears in the Guest Portal just as it appears in the editor. Use the editor to format and style the description, add links and more.
With the editor you can:
Quickly insert web links to direct guests to your hotel website
Standardize your content formatting with built-in styles (e.g., P, H2, H3 and H4) for titles and subtitles
Easily insert bullets and numbered lists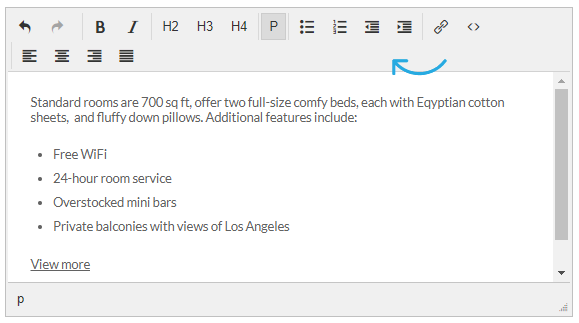 Tips
Using bulleted lists in the description is recommended. Content may not exceed 1,000 characters.