The Upgrade Rules tab displays all your business rules configured in the system. These rules define the Upgrade Options presented to your guest in the eUpgrade Guest Portal.
Navigate to Upgrade Rules
Select Upgrade Rules from the main navigation bar.

Import Upgrade Rules in Bulk
Creating multiple upgrade rules is easy with the import feature. Select Import. Select Download template (.csv). to download the handy pre-formatted template. The file will be called UpgradeRules.xlsx. Add your own content to the template, then re-upload it by selecting the File icon.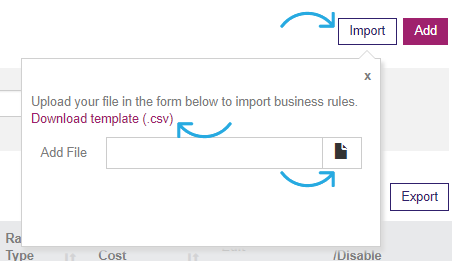 Add an Individual Upgrade Rule
If you have access to only one property, by default, your upgrade rules for your one property will be displayed. However, if you have access to more than one property, by default, the upgrade rules for all of your properties will be displayed. To view upgrade rules for only one property, select it from the drop-down list. Then select Search to view only that property's rate types.

Select Add.

See About Upgrade Rules for information about the upgrade rules fields.