Edit Upgrade Rules
It's easier than ever to refresh your upgrade rules. Take control of updating your rules, on your terms, in just a few quick steps.
Navigate to Upgrade Rules
Select Upgrade Rules from the main navigation bar.

Edit Upgrade Rules in Bulk
Download Template
Select Import. Select Download template (.csv) to download and open a blank workbook template.

Export Upgrade Rules
Select Export to generate an Excel file of all existing upgrade rules.

The downloaded file will be called BusinessRules.xls.
Tips
If your export file isn't generated, disable the pop-up blocker in your browser and try again.
Update Rules
Update your upgrade rules as necessary in the Excel file you just exported.

Highlight and copy your updated upgrade rules, excluding the last column (Active Y/N) and the column headers.

Paste your upgrade rules into the eUpgrade Rules tab of the workbook template you downloaded in the first step. Save the workbook.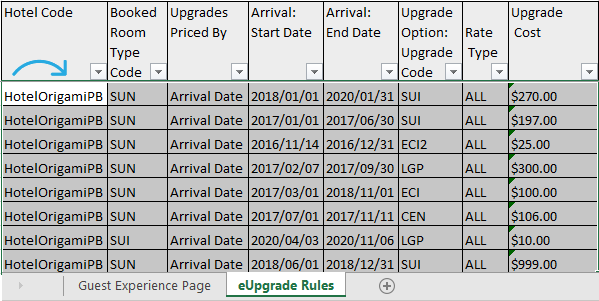 Re-import Revised Upgrade Rules
Select Import, then choose your new workbook file. When the new file name appears next to Add File, select Upload.

Confirm to Overwrite
If the start or end dates of any upgrade rules in the workbook overlap with dates of your existing rules, you'll be asked if you want to overwrite your existing rules. Choose Yes to overwrite your existing upgrade rules with the new rules in the workbook. Or, choose No to append the new rules to your existing rules.

Edit an Individual Upgrade Rule
Select the Edit icon to edit an existing upgrade rule.

Edit Upgrade Rule Details
A form with existing upgrade rule details will open. Make your updates, then select Save. Fields with asterisks are required. See About Upgrade Rules for information about the upgrade rules fields.