When viewing any reservation, Guestfolio will show you all emails that have not been sent to a guest in the unsent automated emails table.
Cancel a future automated email
To cancel an automated email, select the drop-arrow icon for the Pending email and choose 'Cancel this Email'.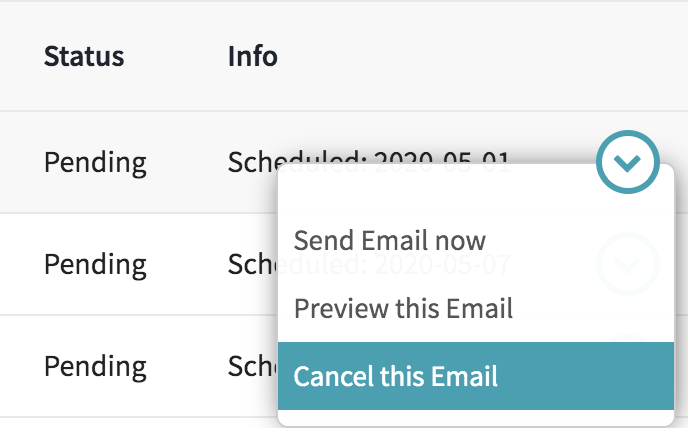 Note
Re-sending an email here will override any conditions or filters attached to the email.

The following fields are displayed:
Subject: The title of the email as it appears in Guestfolio and when sent to guests
Type: The kind of email, confirmation, survey, bring back, etc.
Schedule: When the email should send
Status: Shows if the email will or will not send
Info: Provides an explanation as to why the email didn't send or will show the scheduled date of send if the email will send in the future
Read about email statuses and info options below to better understand why your emails didn't send.
Statuses
Did not send: The time that the email should have been sent has passed and the email didn't send.
Won't send: The time the email should send is in the future but the email will not send at that time.
Pending: The email is scheduled to send in the future and will send.
Info
Time window passed: This occurs when a reservation is created with a short lead time. For example if a hotel has a pre-arrival email set to send three days before check-in and a booking is made on the day of check in, the pre arrival email won't send because the time window has already passed.
Scheduled - YYYY-MM-DD: Indicates the date the email will send, if you see this it also tells you the email will send as normal.
Conditions: This tells you the email will not send because it has conditions associated with it to filter and not send to certain guests. Looking at the email in edit mode will show you which conditions are applied to it. For example a hotel might have specific rate codes for OTA bookings that they don't want to send emails to.
Check email address: The email will not send because there is an issue with the email address. The address may be invalid or no longer in use. The subscriber will also most likely have their status as bounced, this would need to be cleared before another email can be sent.