Customize content for the loyalty member portal.
Content Management Tab
Select the Content Management tab from the main navigation.

Edit a Member Portal Page
Select the Edit icon to edit an existing page in the member portal.

Edit Content
A window will open where you can edit existing content or add new content.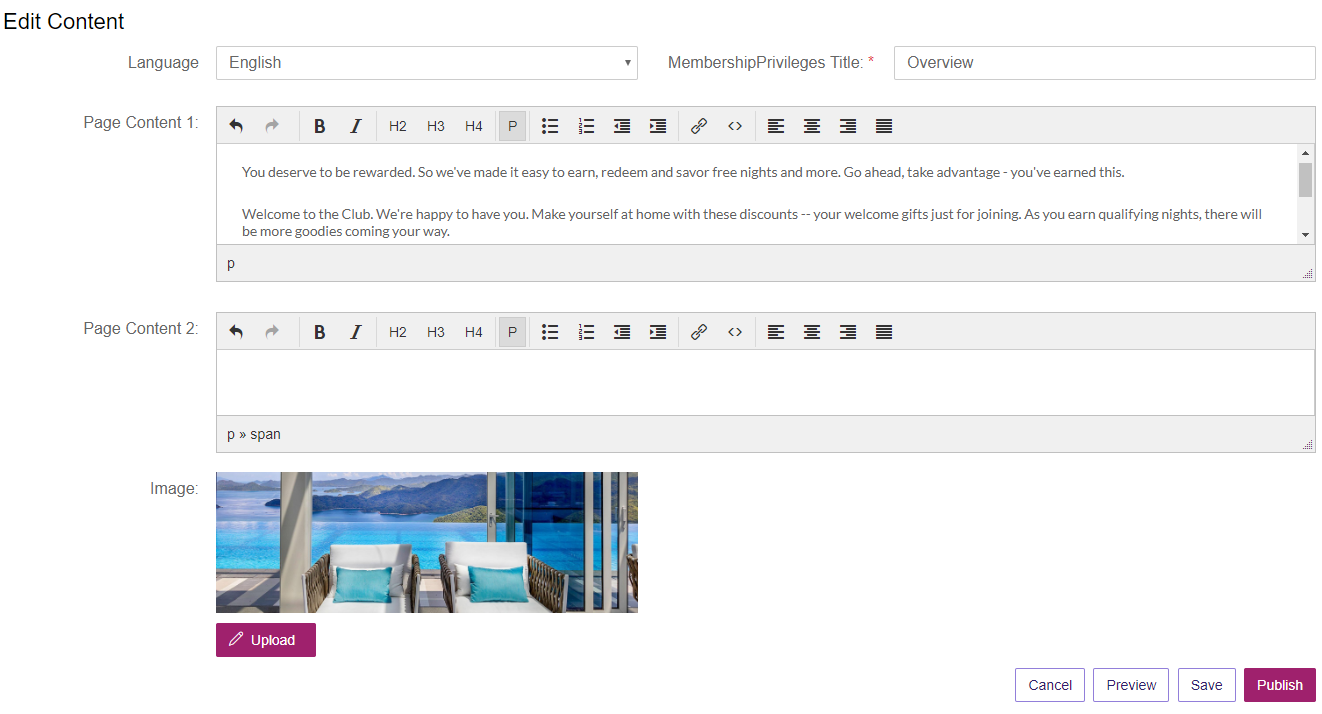 Page Title
Enter a title for the page. Depending on the configuration, the title may or may not appear on the page in the member portal. This field is required.
Page Content
Enter content for the page. Use the text editor to format the text with built-in styles, e.g., H2, H3 and H4.

Or create your own style with boldface, italics, numbered and bulleted lists, etc.
Insert Link
Highlight the text to be converted into a link, then select the Link icon.

Enter the URL for the link. Choose New Window if the URL should open in a new browser tab. Choose None if the URL should open in the same browser tab the user is viewing. Select Ok.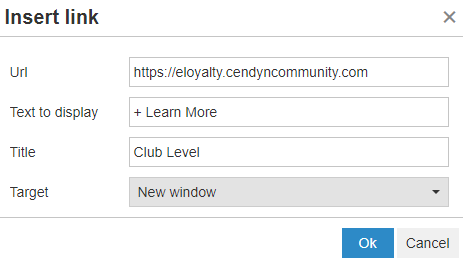 Cancel
Select Cancel to abandon any changes made and return to the main Content Management page.
Save
Select Save to save the content as an unpublished draft.
Preview
Select Preview to view your unpublished page in a new window.
Publish
Select Publish to publish your content on the loyalty member portal.
Multilanguage
When so configured, eLoyalty allows you to create content for the member portal in multiple languages.* When multiple languages are enabled, you will see a drop-down list containing those languages on the Site Content Setup page.

To take advantage of this feature, first create content in one of the available languages, such as English. Save and publish the content. Then select another language, perhaps Chinese or Spanish, from the drop-down list and create content in that language. Save and publish the content in the second language. Repeat as necessary for each language enabled.

*Note
Contact your Cendyn Customer Experience Team to learn about enabling additional languages in eLoyalty.