View dates and times in your local, preferred format.
How to Set your Default Date and Time Format
When you log in, the global location of your browser will determine your default region and its corresponding date and time format. If, however, you prefer a different region's date and time format, you can manually change this setting in the Region drop-down list located in the My Preferences area.
Access My Preferences
Select the circle icon containing the first initial of your name in the upper right corner to view a drop-down list.

Select My Preferences from the drop-down list.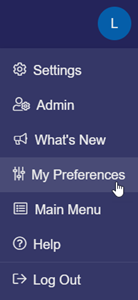 Select a Region
Select your preferred region from the drop-down list.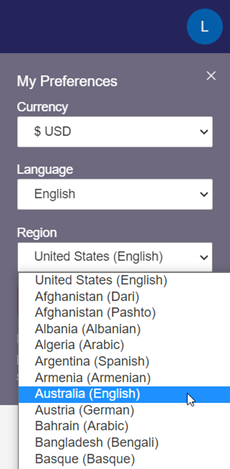 Select Save Preference.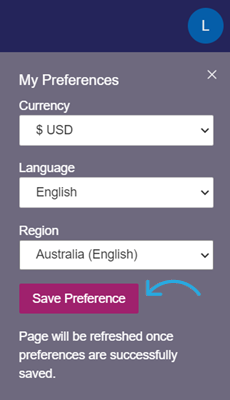 Your selected date and time format will be updated throughout your CRM application as seen in the examples below, which display Australia's preferred date format.
Date and Time Formatting in the Profile Tab

Note
A Language drop-down list appears under Currency only if your eInsight is configured for multilanguages. Contact your Cendyn Product Success Team to learn about enabling multilanguages in eInsight.
Date and Time Formatting in Audiences/Criteria Editor