In Recent Campaigns you can filter and view recent campaign activity and recently sent campaigns.
At a Glance - Recent Campaign Activity
The default view shows All Activity and displays your three most recent actions. To change which campaign activity appears, select any of these buttons to filter your recent activity: Created, Criteria Changed, Template Changed, Sent to Test Emails History, Delivery Report Requested, Delivery Report Received, Proceed for Approval, Approval Requested, Approved, Disapproved, Scheduled, Rescheduled, Schedule Deactivated, Sent and Canceled.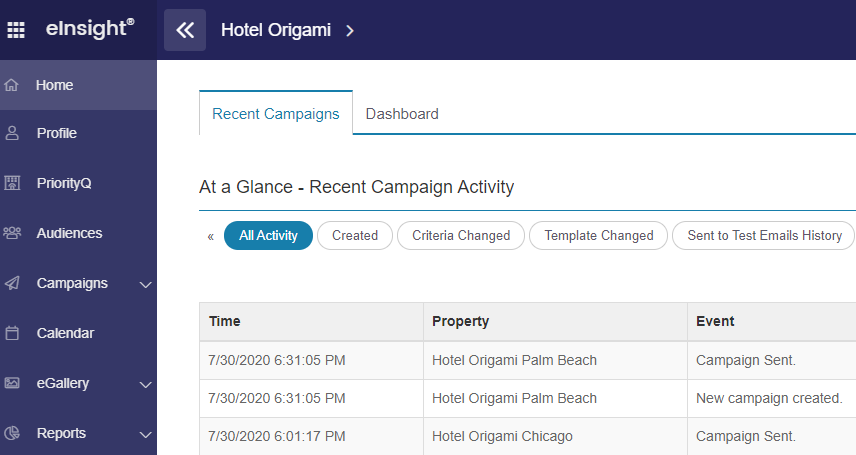 Recently Sent Campaigns
Choose Type
View open rates and other metrics of your recently sent campaigns in this handy table. The default view shows email campaigns sent during the previous month. To change which type of Sent Campaigns appear, filter the view by selecting one of these buttons: Marketing, Triggers or Transactionals.

Sort Order
By default, the table is sorted by Date Sent. Click on any column heading to sort by that field.
Change Time Frame
Choose a time frame from the drop-down list and select your desired date range to filter your list of campaigns.

Metrics
These metrics are included in the table: Campaign Name, Subject, Date, Sent, Delivered, Opened, Unique Opened, Clicks, Net Clicks, Bounced, ISP Delay, Abuse Complaints, Opt Outs and Invalid Emails.
Tips
The width of your display determines how many columns are visible. Select the
Expand icon
to view any hidden columns.

Click on an underlined metric within the table to view email addresses for that metric.

Use the filter to locate a specific email address within the list you are viewing. Or, select a different tab, i.e., Opened, Net Clicks, to view emails for that metric.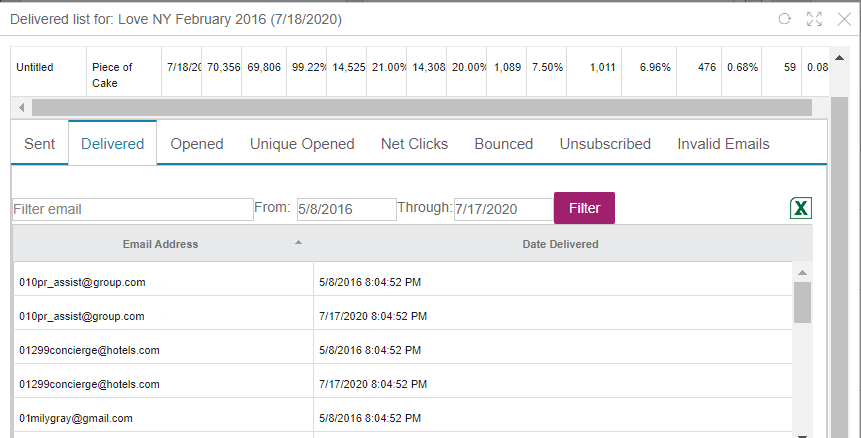 Export Metrics
Select Export to create a report of the metrics for the email campaigns that are displayed. The report will be found in your Download folder as an Excel spreadsheet.

Campaign Details
Click an underlined Subject line for any campaign in the table to open the Campaign details view for that campaign.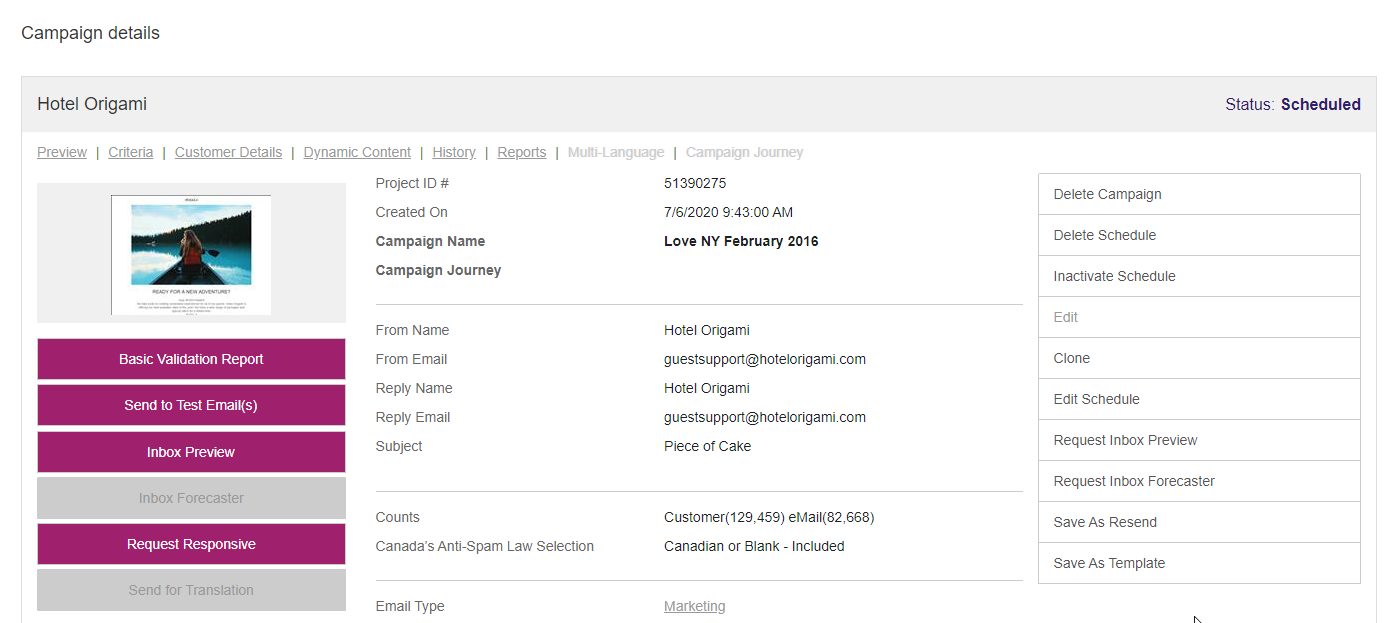 Items Unique to the Transactional View
Search by Email
Enter an email address and select Search to locate campaigns sent to that address.

Search by Reservation Number
Enter a reservation number and select Search to locate campaigns sent to that reservation number.
Campaign Details
These fields are included in the table: Campaign Name, Subject, Sent, Delivered, Email, Reservation Number, First Name and Last Name.
Preview
Click Preview in the search results to see the exact email message that was sent.

Resend
Click Resend in the search results to resend an email.

In the pop-up window, you can use the email address that appears in the To field, which is pulled from the guest's PMS profile, or enter a different address. Select a campaign from the drop-down list. Check the box confirming that the email address is in compliance with global spam laws to enable Send and Preview. Select Send or Preview for the email you wish to send or preview.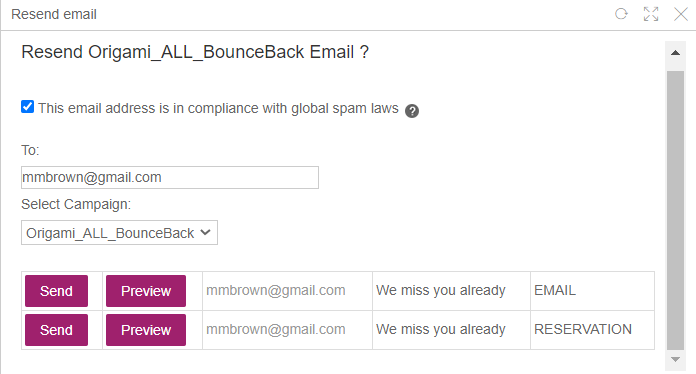 Note
If you enter a new guest email into the Resend Email form, it will not update the PMS. Permanent updates for a guest profile must be made in the PMS.
Note
Grayed-out tabs while logged in to eInsight indicate that you do not have access to these features. If you believe this is an error, or if you are interested in learning more about these features, please contact your Cendyn Client Success Team.