View a brief summary of a particular profile. Edit personal and contact information stored in guest profiles including names, salutations, emails, addresses and phone numbers.
Profile Tab
Select the Profile tab.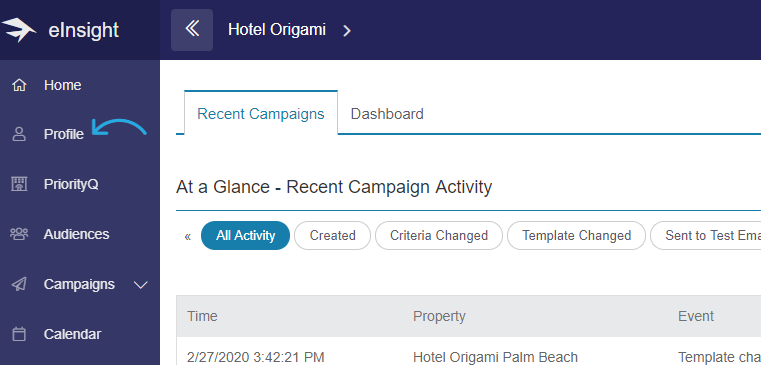 Search Guests Tab
Search for a guest on the Search Guests tab. In the results area, click on a guest name to view the guest's profile and stay details. A new tab with the guest's name will appear to the right of the Search Guests tab. On the individual guest profile screen you will see at the top a Guest Summary section and a section for recency, frequency and monetary value.
Edit Profile Contact Information
To make updates to a guest's personal and/or contact information, click Edit in the top right of the profile. Make your updates and select Submit.
Important
Profile fields are editable for client-uploaded sources that are non-guest loyalty, web sources and PMS records.
Permanent guest profile updates must be made in the PMS. If you enter a new guest email or make other contact updates here it will not update the PMS.
All Profile fields are editable except for Customer ID# and Source Guest ID#.
Any updates made in the PMS after an update is made within eInsight, will results in the eInsight updates being overwritten.
Recency, Frequency and Monetary Value
Select the Revenue Details drop-down arrow to reveal more details.

If your data is so configured, you can toggle between the Summary Category and the Detail Category.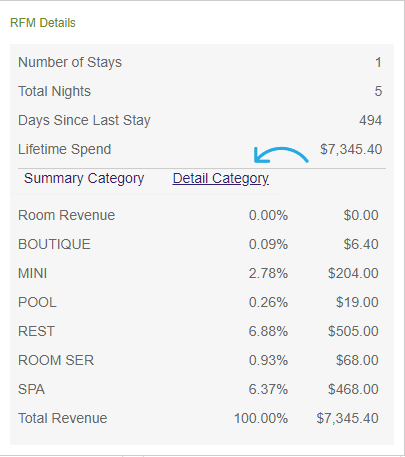 Click the drop-down arrow next to Revenue Details once again to hide the details.