Are you looking to add emails to your database? Utilize the Profile tab to add email, phone number, country, and a number of different fields into your database. Watch the video below for step-by-step directions or navigate the screenshots below.
If you're looking to add a single guest at a time click here.
Pro-Tip
In order for your list to upload successfully, you must include a first and last name. If you don't have a first and last name you can utilize placeholders such as "Dear Valued Guest" or create dynamic content to address other characters in the field. We have two email editors that support the creation of dynamic content -
Studio
or the
HTML Editor
.
How to upload a list
If you have access to multiple properties, note which property you're in when you upload a list, as it will be permanently associated with that specific property. When you use a list for marketing campaigns, you'll need to include the associated property to generate counts. Learn more about setting up the criteria for an email marketing campaign.
Select the Profile tab.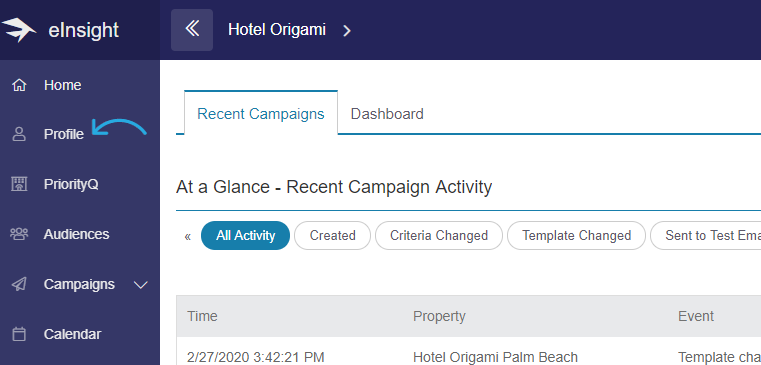 On the Add Guest(s) tab, select Upload New File.

Select Click here to download a CSV template. The downloaded file will be called GuestProfile.csv.

Browse to your Download folder to locate, open and enter your data into the file in Microsoft Excel.
Warning
Deleting any columns in the CSV template will cause the file to not upload. For the file to successfuly upload, make sure you save as a CSV and include data in the first and last name columns.
When your file is complete proceed to enter a new source name for your data or select an existing source for your data.
Note
Valid source names may include letters, numbers, underscores and spaces. Do not use punctuation or special characters other than an underscore.
Correct example: Summer_2014_Member. Incorrect example: Summer-2014!

Note
If you select an existing data source you will add to the existing data. If an email exists in the source it will not upload again.

Browse and select the file you created.
To designate all guests you are uploading as having consented to receive communications, check the Mark list as Consent box.

Select Submit.