Define your competitors and corresponding weights to calculate a market rate.
Competition Tab
Select Competition from the main navigation.

Select Setup Competitors
Select Setup Competitors.

The Edit Competitors view lists your currently configured competitors, along with assigned weights that indicate how much each one contributes to your calculated market rate.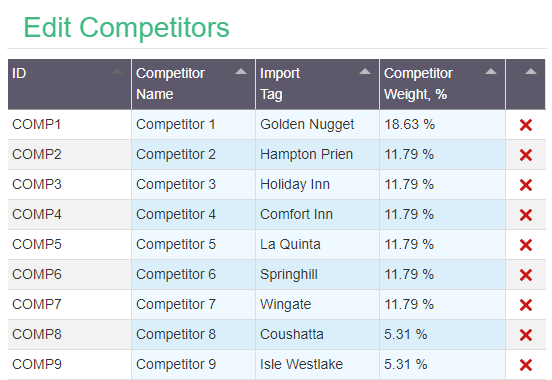 Tips
The market rate equals the weighted average of all researched competitor rates for that DOA (date of arrival):
(comp1rate *comp1weight) + (comp2 rate*comp2weight) + ...
sum of weights
Note
If you don't research a competitor's rate for a given DOA, as opposed to adding a weighted rate of zero for that competitor, the competitor is removed from the market rate calculation.
Add a Competitor
Select New.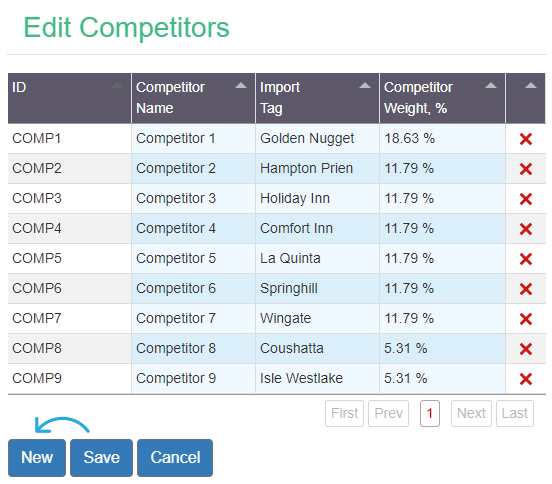 Enter the new Competitor Name, Import Tag and Competitor Weight in the new, blank line that appears. Select Save.

Edit a Competitor
To edit a Competitor Name, Import Tag or Competitor Weight, click into the field and replace the existing content with new content. Select Save.

Delete a Competitor
Select the Delete icon in the row of the competitor you wish to delete.