A loyalty member's activity status is automatically updated whenever the member uses the program. However, it can also be manually updated in Member Information > Member Status.
How to Access Member Information
First search for a member on the Member Search tab, then select the View icon in the record displayed in the Member Results to access a member's information.
Available Statuses
Active: A member's status is automatically set to active upon registering. However, the member will not be able to access the member portal or receive emails from the program until they click the activation link in their email. If the member does not book stays or use the account for a predetermined number of months, their status is automatically switched to inactive.
Inactive: If an inactive member books a stay, they are automatically switched back to active status.
Note
Depending on your configuration, it may be that inactive members' stays and points are automatically erased upon becoming inactive. Contact your Cendyn Client Success Team if you require more information.
Deactivated: Changing an account's status to deactivated closes the account, erases any associated points and prevents further access to the member portal with the account's credentials. Members cannot see when an account has been deactivated and there is no email notification associated with deactivation. Admin users can deactivate a member's account for any reason.
Note
Manually changing a member's status will not cancel future automatic status changes for that member, unless the member is manually deactivated. If the member is deactivated, reactivation must also be done manually.
Change a Member's Status
Search to locate a member. On the Member Information tab, click on the member's activity status, which is the underlined link.

Select a new member status from the drop-down list.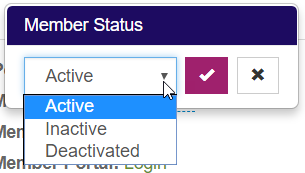 Click the check mark icon to save the new status.