View and manually add transactions to a loyalty member's account.
How to Access Member Information
First search for a member on the Member Search tab, then select the View icon in the record displayed in the Member Results to access a member's information.
Member Transactions View
Member Transactions are displayed in a tab below the Member Information section.

Add a Transaction
Select Add Transaction (Admin users only).

Note
The Add Transaction button is disabled for inactive and deactivated members since transactions can only be added to active accounts.
Enter information in the Add Transaction editor. Fields with asterisks are required.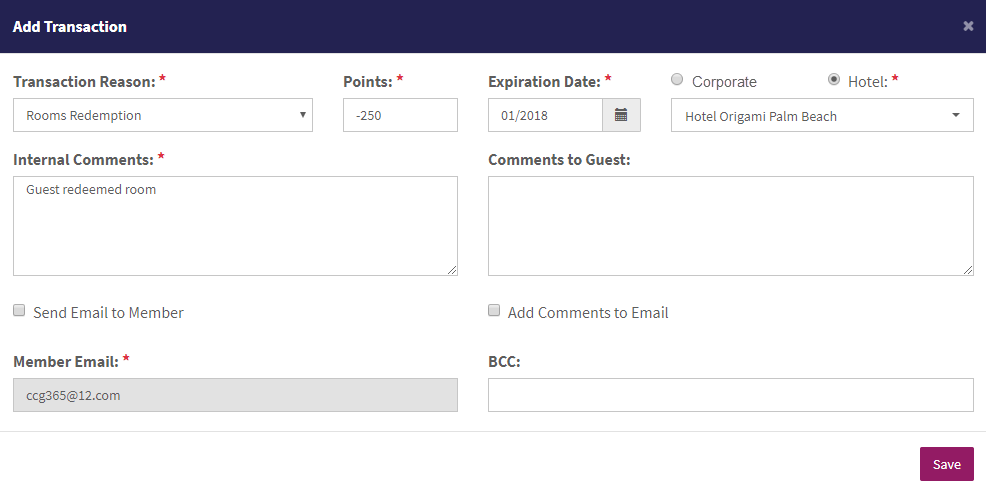 Transaction Reason
Select a reason for the transaction from the drop-down list. See Transaction Reasons for information about editing reasons.
Points
Add or deduct points using the arrow keys or enter the number directly. Use the negative symbol (-) before the value to deduct points from the account.
Expiration Date
Click the calendar icon to select a date or enter it manually in this format: mm/yyyy.
Corporate vs. Hotel
Select whether the transaction should be associated with the corporate entity or a specific hotel. If you select Hotel, choose the specific hotel from the drop-down list.
Internal Comments
Enter internal comments.
Comments to Guest
Enter comments for the member.
Send Email to Member
Check this box to notify the member of the transaction.
Add Comments to Email
Check this box to be able to add comments to the member in the email message.
BCC
Send a blind copy of the email to another email address.
Save
Select Save to update the information.
Note
This will trigger the
General Admin
email
from the Admin Portal.