Create users, roles and permissions on the Users tab to manage access to your admin portal.
Select the Users Tab
Select the Users tab from the main navigation.

Add a User
Select the lower Users tab, then select +Add User.

Edit a User
Select the Edit icon to modify a user.

User Setup
A blank window will open when you add a new user, while a window with existing user details will open when you select to edit a user. Fields with asterisks are required.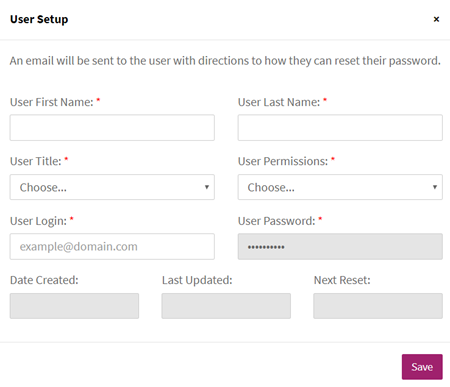 User First Name
Enter the user's first name.
User Last Name
Enter the user's last name.
User Title
Choose a title from the drop-down list.
User Permissions (Role)
Choose a role from the drop-down list.
User Login
Enter the user's login.
User Password
A system-generated password will be emailed to the user with instructions on how to reset it.
Date Created, Last Updated and Next Reset
These fields are auto-populated and cannot be edited. Next Reset is the date that the user will be required to reset their password. This is configured in User Settings.
Save
Select Save.