eInsight CRM | Enterprise marketing automation and guest intelligence
We're thrilled to announce that we've evolved how you build audiences and isolated that process from campaign creation, giving you fantastic new levels of control and flexibility. These enhancements will be deployed on August 20, 2020, beginning at 8:00 PM ET. Read on to learn more.
---
Create new audiences
The new stand-alone Audiences area is where you'll create audiences independently of creating campaigns.
Here you can Save an audience when you want to quickly preserve it while it's a work in progress. You can also choose to Save & Publish an audience when it's finished and ready to use.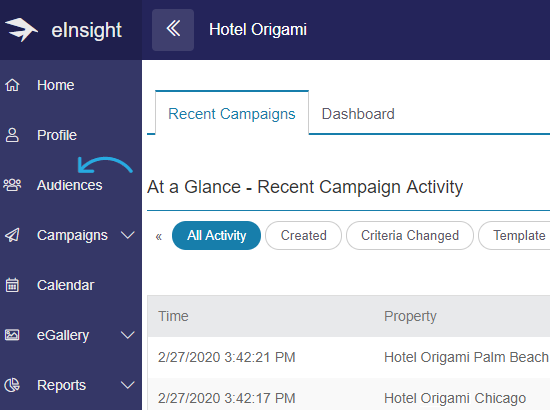 ---
Select a published audience while creating a campaign
Creating a campaign is now a simpler process since all you have to do is select which published audience you want to use.

If you need to update an audience, you can edit it right from the Criteria tab. The best part is that editing an existing audience that is being used in a different, active campaign won't disrupt the sending process for that other campaign.
On the Criteria tab, you can still adjust the Campaign Settings, such as assigning a reservation event to the campaign or changing your email source without affecting the published audience.
---
Delve into audience details
The new Audience Details page displays a summary of the audience, customer details, associated campaigns and audience history.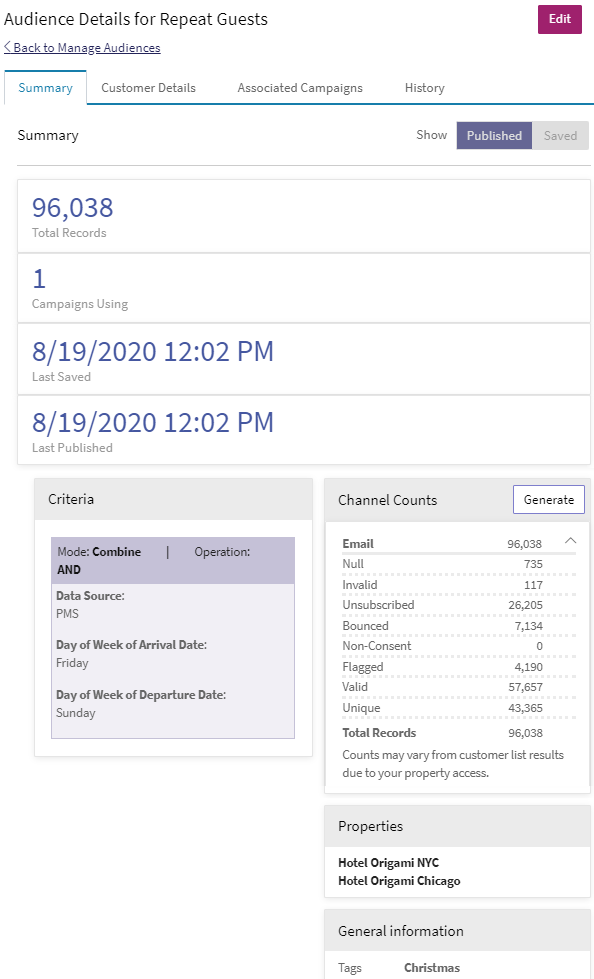 ---
Clone an audience
Save time and reduce errors by cloning and updating an existing audience rather than starting a new one from scratch. Tags, descriptions, segments and filters are copied from the original audience to the new audience. You can then update them as necessary.
---
Learn more about selecting an audience

If you have any questions, please contact your Cendyn Customer Experience Team.