To view a list of every subscriber you have in your Guestfolio database, on the left side of the dashboard click on Newsletters > All subscribers. The following screen will list your entire Guestfolio subscriber database and has a drop down search box to find individual records. For more information on searching for subscribers, visit Finding a Guest or Subscriber.
To send an email to all your subscribers you need to create a subscriber list for this. Navigate to Newsletters > Subscriber lists.
In the top right corner of the screen select "Create new subscriber list"
The following screen will list your total subscriber count.

To create a list to send to all subscribers simply enter a name for your list in the box provided and select "Create subscriber list"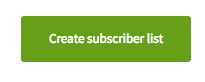 The new list will show up up in your subscriber lists and can be attached to a marketing campaign.

NOTE: Heavy email volume may cause delays
For more detailed information on setting up customized subscriber lists, visit https://cendyn.zendesk.com/knowledge/articles/360047648831/en-us?brand_id=360004027811