You can quickly resend a guest's confirmation email directly from the search results section.
Navigate to Profile > Search Guests. Use the filters to locate a guest.
Click on the reservation number to preview or send an updated email (i.e., confirmation, change, cancel, pre-arrival, departure).

In the pop-up, check the box confirming that the email address is in compliance with global spam laws to enable Send and Preview.
Use the email address that appears in the To field, which is pulled from the guest's PMS profile, or enter up to three different addresses, separated by commas.

Select a campaign from the drop-down list.

Select Send or Preview for the email you wish to send or preview.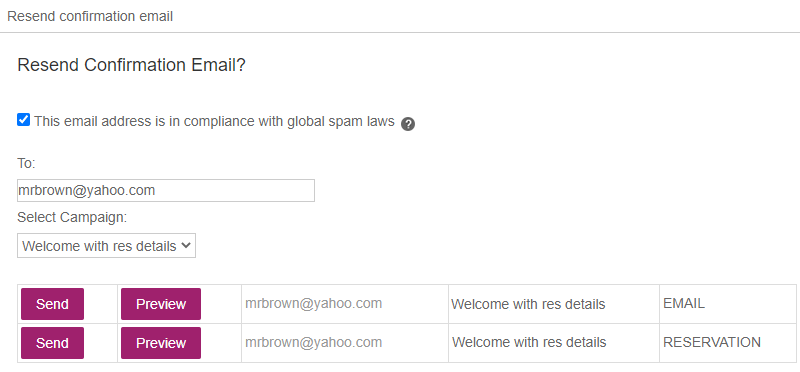 Note
In the example above, there are two emails to choose from with the same name. The one labeled "EMAIL" will pull in the profile email while the one labeled "RESERVATION" will pull in the reservation email.
Note
To clarify, the resend on the profile search page sends a copy of the transactional email based on the most up-to-date data for the particular reservation. Two types of emails are available in the system.
-The first is profile based which means it is associated with a profile. This should not be used when sending out a transactional email because one guest profile may have multiple stays.
-The second is a reservation type of email which is connected to a reservation. This should be used when sending out transactional emails.
Some clients' PMS sends us different types of emails like profile and reservation, therefore these two options are available. For most clients who send one type of email, we clone the profile email as a reservation email and associate it with each reservation on our side.