Craft your personal message and make it shine.
Welcome Message & Stored Content
Use the Welcome Message to customize and personalize the eProposal for your client. The current date, salutation and regarding line are pre-populated for you (in your English language eProposals) but can be edited at any time. You may enter your own content or choose one or more block of stored content from the list below the editor to automatically include in your Welcome Message. You can then edit any portion of the content and/or use the editor toolbar to format it. Only enter the body of your message in this field as the closing, your contact information and signature will be included automatically.
Warning
The stored content will be pasted into your welcome message each time you select it from the list. If you inadvertently add the content more than once, simply delete what you don't need.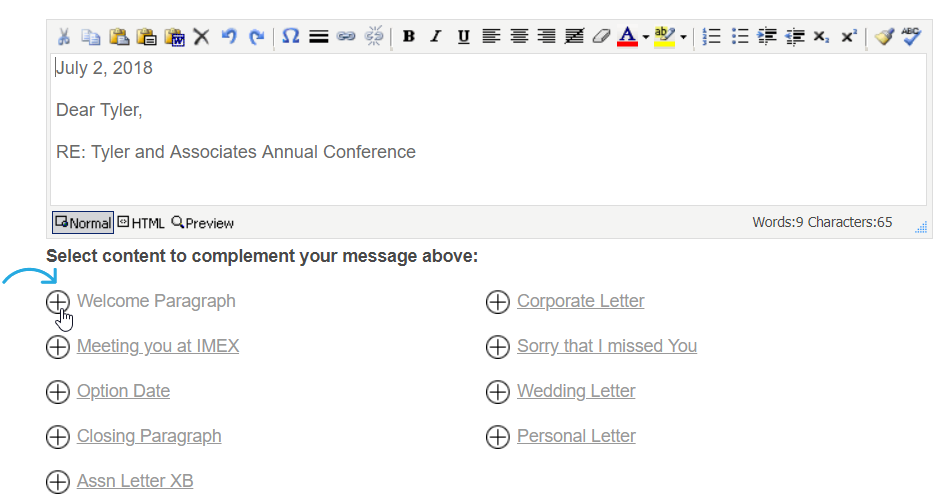 Tips
For best results, create a personal message that references specific details you have previously discussed.
Note
Under
Settings > Stored Content
, administrators can add multiple types (e.g., Welcome, Body and Closing) and versions (e.g., by department) of content blocks, ensuring that corporate-approved content is available to all users.
Include Offer with Welcome Letter
A link called Your Proposal Details will be prominently located in the navigation of your eProposal. When clients click on this link, they will be taken to a page containing the Room Block, Event Block and any additional options and/or estimated costs you chose to include in your eProposal.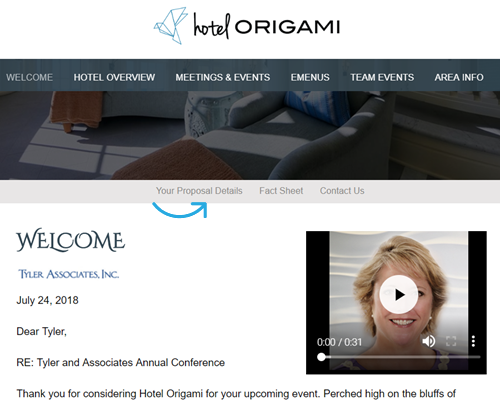 You also have the option to include those same proposal details underneath your welcome letter on the Welcome screen of the eProposal. To do so, check this box on the Compose page:

Here's how it might look to include the offer under the welcome letter: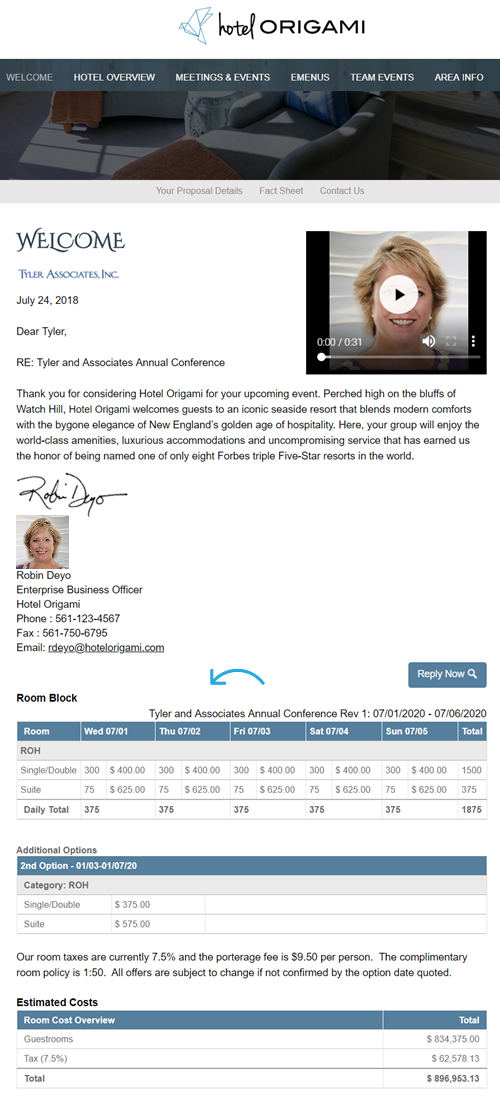 Message Closing
Use the drop-down to select a closing for your message. You may also type your own.

Senior Staff Message
The Senior Staff Message is an optional field where you can include an overview letter or a secondary welcome letter from a senior member of the staff, such as the GM or VP of Sales. You can customize the Senior Staff Message the same way as the Welcome Message. Review the pre-populated text and make any desired changes. eProposal will automatically insert a signature into the Senior Staff Message that includes "Sincerely," and the staff member's name and contact information.
Note
The Senior Staff Message is not available in the EZ module.
Warning
You must click Next at the bottom of the page to advance to the next step and save your work.
To continue learning how to create an eProposal view the articles below -