Share eMenus allows you to easily create and send customized menus to guests.
Generate Link
Rather than sending a link in an email directly from eMenus Share, you can choose to generate a link, then copy and paste it into any email program to send.

Copy & Paste Link
Copy the Share Menu PDF Link from the confirmation window. Paste the link into any email to send to your client.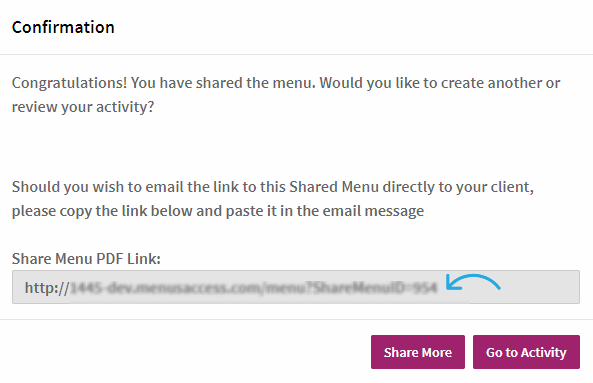 Select Share More to create another custom menu to share. Select Go to Activity to review or clone previous menus that you've shared or review, clone or edit unsent menus.
Note
Once you click on Generate Link, the system considers the menu as having been shared and the process complete. You cannot return to the Send Email option to send via email. You may, however, go to the Activity Manager, clone the menu and then use the Send Email option to send the cloned menu.
Tips
You can also paste the link into a browser and bookmark it for future reference.