Insight Score uses predictive analytics to supercharge the lifetime value score for every guest. Based on the recency, frequency, and monetary (RFM) value, the likelihood a guest will stay, and that guest's propensity to spend, the Insight Score uses predictive data science typically reserved for Revenue Management to propel Marketing capabilities and offer the most sophisticated segmentation in hospitality.
Note
Insight Score is dependent upon Global Profile being enabled. Please contact your Cendyn Customer Experience Team to inquire about enabling Global Profile.
Leverage the Insight Score in the Guest Profile
Know more about your guests' behavior and access it right in the Guest Profile. Use this to gain a better understanding of their loyalty and behavior while they are on property or when preparing for arrival.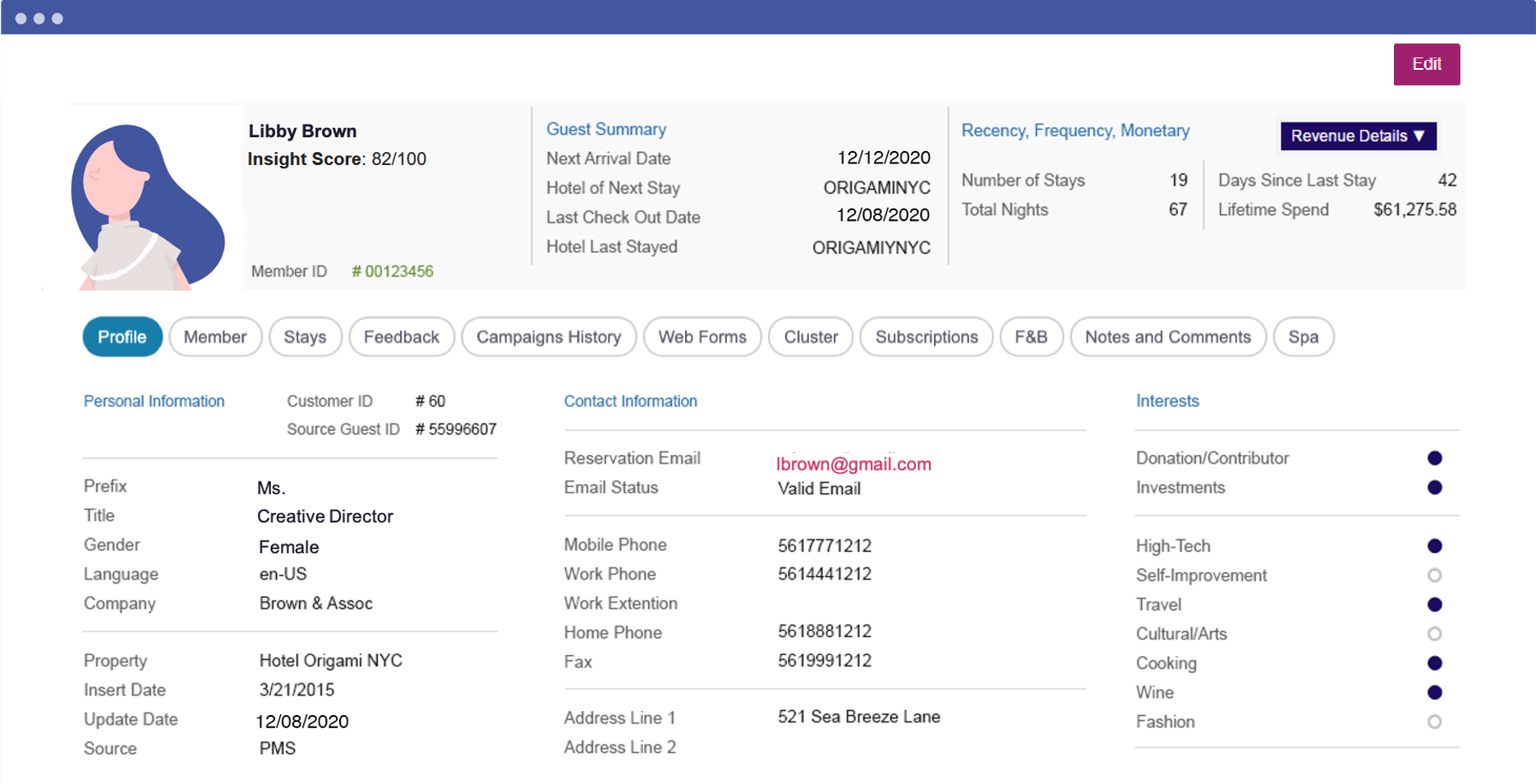 Leverage the Insight Score in Audiences
The Insight Score can be used to segment and tailor communications across the guest journey. Add Insight Scoring tiers or values to your Audiences and send bespoke offers to individual guests. Down to the individual level, wow your guests with offers that truly relate to their personal interests and behavior patterns.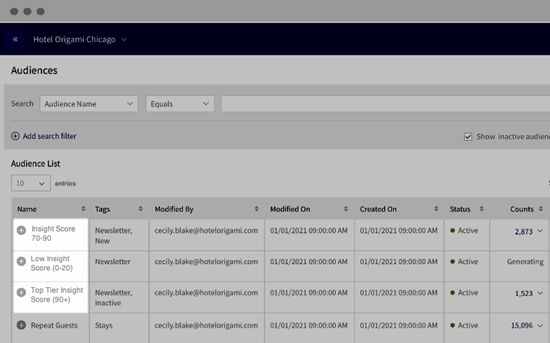 Add layers of other segmentation to your Insight Score lists so you can target those with specific scores, specific demographic data, geographic data and interests for example.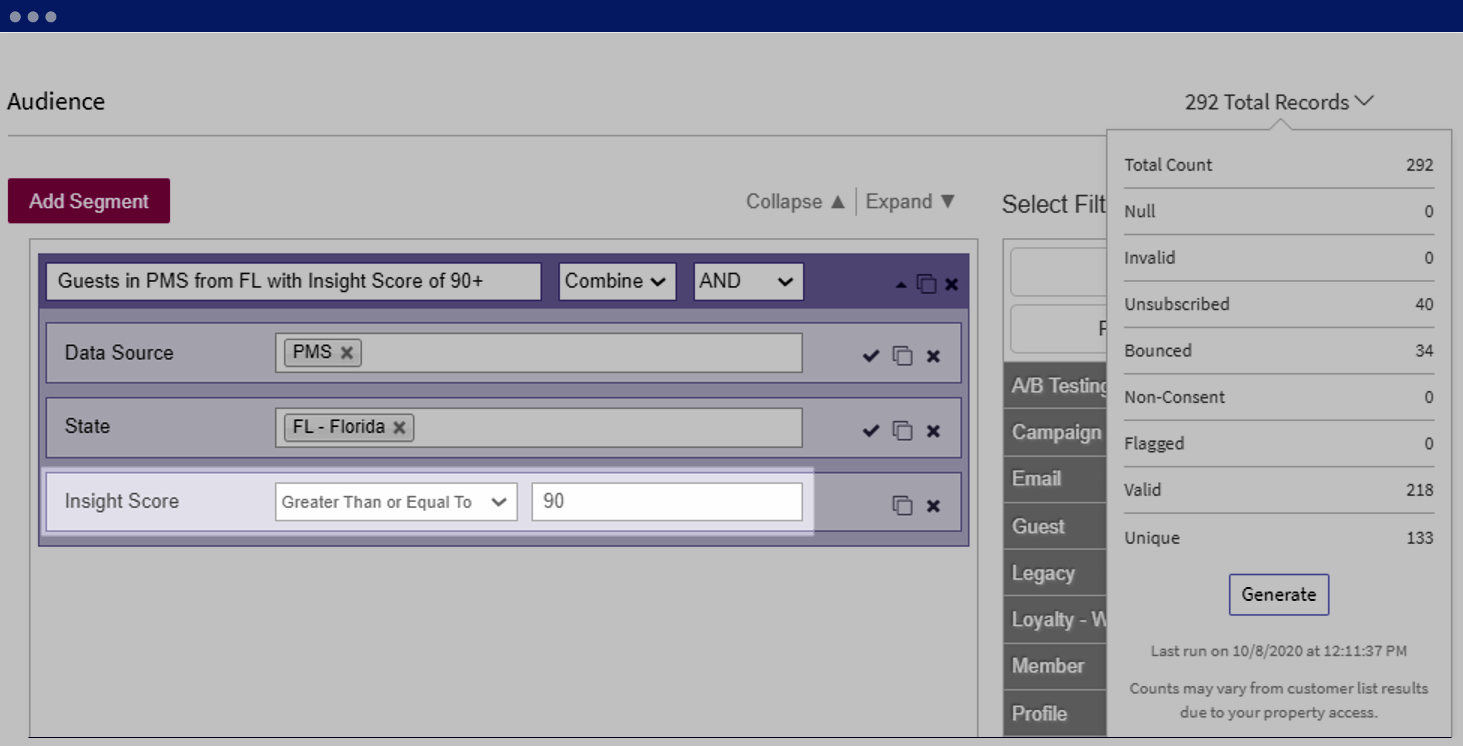 Practical Use Cases for the Insight Score
Supercharge your personalization skills! Insight Score adds another tool to your personalization toolkit so you can ensure all your communications are relevant and bespoke for your guests.
Use the Insight Score when looking up your guest profiles – front and center of the profile you can be sure to know whether your guest is a brand advocate of yours in seconds.
Tailor communications to every guest based on unique characteristics – Insight Score, demographic, geographic, interests, stay dates, F&B data, Spa data, or any other data point from your CRM. With dynamic content you can use Audiences and data such as the Insight Score to tailor messaging down to one-to-one communications.
At check-in use the Insight Score to gain a better understanding of your guests on arrival – with a high score are there more opportunities for up-sell? They are likely to be a loyal guest of yours so perhaps you can offer them a special gift or welcome on arrival.
Add benchmark Insight Scores to your monthly KPIs. Strive to obtain a higher % of your guests with a higher score each month.
Tips
Tailor communications to those with lower scores based on behaviors to appeal to their interests and buying behavior. Keep those guests with high scores in the top percentile by targeting them with relevant offers based on their behavior.