Review guest surveys within eInsight. View a summary of all responses or drill into individual responses. Filter responses by options such as date range, question type, answers and user attributes.
Getting Started
Navigate to Survey.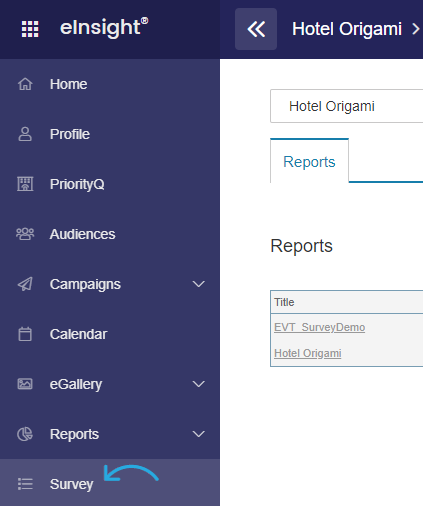 Reports Tab
Your surveys are listed on the Reports tab. The list displays the survey title, date created, a link to a Score Card (responses) and the source type.

Available Source Types
Web: The survey was accessed from a link in an email.
Social: The survey was either embedded or iFramed into a website page.
View Survey Questions
Click on the title of a survey to view the actual survey that was sent.

View Survey Responses
Click on a survey's Score Card to open the Survey Results Overview in a new tab.

To toggle the view to see the respondents' contact information and the time and date they completed the survey, select Individual Responses in the top left.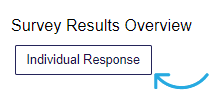 Toggle back by selecting Results Overview.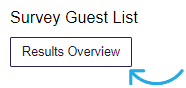 At the top of the page is a total of filtered responses and the launch date of the survey. If it is a Web survey, you'll also see the email campaign information including sends, clicks and response rates.

The bottom of the page displays the cumulative results of the filtered responses by question. Select View to see individual responses to open-ended questions in a new tab.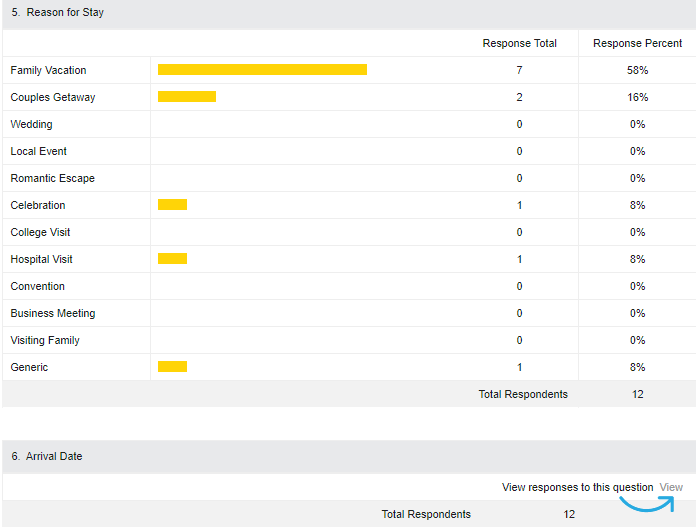 Manage Filters
Select Manage Filters > Add Filter to add as many report filters to the survey as desired to narrow or expand the results displayed. You can create multiple filters using different parameters for each.
Choose a Filter Type: Date, Question, User Attribute or Hidden Field. Then select options for the Filter Type you chose.
Select Apply.
Select Add Filter and repeat the process to add another filter.
The overview and individual reports will then display only those responses that match all of the filters added.
Note
Responses are automatically filtered by January 1st each year but you can narrow or expand the filter by using the Manage Filters button.