Guestfolio provides the ability for you to add links to your social media accounts within your mobile concierge, which will allow a guest to directly access your Facebook, Twitter or Instagram pages. These links are displayed as icons at the bottom of every page within your concierge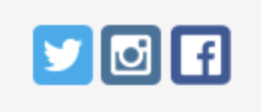 To add a social media account to your mobile concierge
Login to your Guestfolio Dashboard.
Select the gear icon at the top right of the page, followed by the option "Hotel Settings" and then "Branding & Styling" on the following page.
Scroll to the bottom of this page to access the Social section of the form.
Enter your profile URL (eg https://facebook.com/Guestfolio for Facebook) into the field for the social media account you wish to add.
Click the "Save branding" button once complete.