Budget and forecast data can be uploaded to Revintel by navigating to Forecast and Budget > Forecast Budget Upload and selecting "Upload New Budget/Forecast File" located in the top left corner of the page. Once the file has been uploaded, send an email to the Revintel Support team at revcloudbisupport@cendyn.com to process the file.
The data in the file and the file uploaded need to be in a specific format. If you have not received a copy of the template, contact the Revintel Support team at revcloudbisupport@cendyn.com.
Warning
Formatting is very important in ensuring proper upload – please carefully follow all instructions on the "Directions" tab of the template. See below for details as well.
Breakdown of the template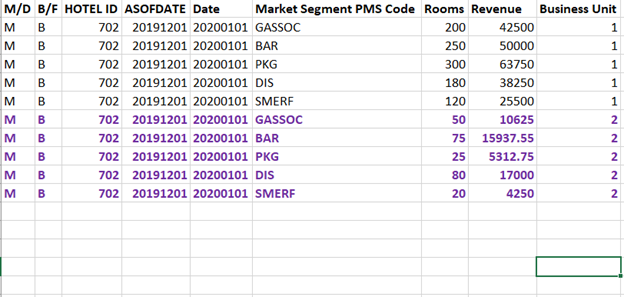 M/D – indicates if the data will be broken down by month or daily
B/F – indicates if the data is budget or forecast data
HOTEL ID – each property has a unique hotel ID. Please contact support for the property ID
ASOFDATE – the date the budget/forecast was created/approved
DATE – the month/day for the budget/forecast data. The date format is YYYYMMDD
Note
When uploading file changes, the Revintel database erases all existing data beginning with the first date that appears in the new file, and then adds the data in the new file. So, if you are just changing a portion of the original data set but not all, please make sure the new file upload includes the changed data along with all other data you want included that would otherwise be erased.
Market Segment PMS Code – this is the PMS code for the budgeted market segment. If multiple PMS codes map to one segment, select one. For example, if the property uses both DIS and DISCOUNT market codes in reservations to indicate the Discount market segment, either DIS or DISCOUNT can be used. If you need a list of market codes with their Revintel mapping, please reach out to support.
Rooms – room nights budgeted for that segment for that month/day. Room nights need to be whole numbers. For example, the system will not process 25.7 room nights and this would need to be either 25 or 26.
Revenue – room revenue budgeted for that segment for that month/day. Revenue must be submitted in the reporting currency of the PMS and cannot include currency symbols or decimals. For example, $1,560.78 should be submitted as 1560.78 instead, removing the '$' and the comma.
Business Unit – a unique code that corresponds to the business units set up for your property during implementation. If you do not have more than one business unit, this column is not needed. If you have more than one business unit, contact Revintel support for the codes.
File format
The file must be returned in pipe-delimited CSV format. To save in this format:
When saving the file, change the 'Save as type' option to CSV (Comma delimited)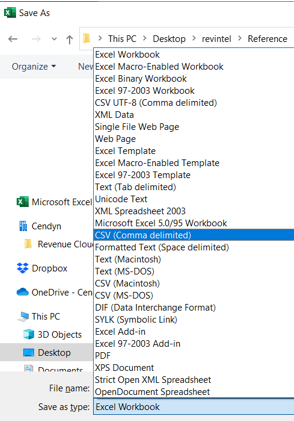 The file name should include either the word budget or forecast.
After the file has been saved, navigate to the file, right-click and open with Notepad.
In Notepad, select Edit > Replace and replace all commas with the bar character located above the Enter key and save the file
The final file will look like this when opened in Notepad:
Reports that include budget/forecast data
The following reports include budget and forecast data:
Portal/Monthly Pickup and Budget Variance
Portfolio Report (if applicable) found on the Portfolio tab
Market Performance found on the Market tab
Monthly Market Segment Report found on the Market tab
Pickup by Month found on the Booking Trends tab
The pace and Forecast Report found on the Forecast and Budget tab
Monthly Summary found on the Time Period tab