Release notes - November 23, 2020
Reservations & Lost Business (Res + LB) Non-Room Revenue Categories
In addition to a total figure, you will now be able to view your expected and actual non-room revenue broken out into as many as nine non-room revenue/ancillary spend categories. Simply tick the Show All Revenue Categories box before running the report and your non-room revenue will be divided among user-defined categories such as F&B, Spa, Golf, Retail, Gaming or Recreation (define category names specific to your hotel and data).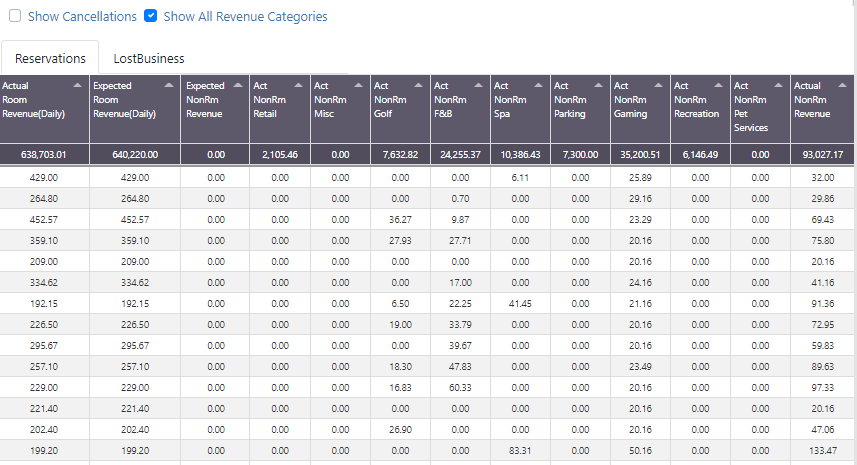 This new level of transparency can provide invaluable insights for your strategic planning. For example, let's say your actual non-room revenue for the past 7 days was greater than your expected non-room revenue. Understanding what control segment(s) had the bigger variance and which specific non-room revenue categories were responsible for the increase allows you to capitalize on a potential new strategy. Additionally, you'll be able to see if you should expect that trend to continue with on-the-books reservations.
Read more about the Reservations tab.
Read more about the Lost Business tab.
PMS Compatibility
This feature is supported by the following PMS: Opera, LMS, HMS and SMS. It is not supported by Maestro, StayNTouch or V1 at this time.
Note
Please contact Cendyn Product Help at revcloudsupport@cendyn.com if you wish to customize your nine non-room revenue/ancillary spend categories.
Introducing the new Help widget
As part of the recent Cendyn Knowledge Cloud launch, you'll now see a Help widget in the bottom right corner of every page.

Click the widget to see the top suggested articles or submit a request to the Help Desk by clicking Contact us.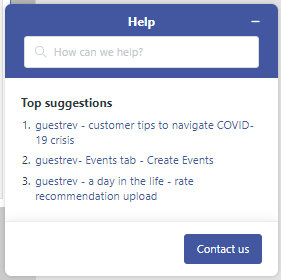 Or enter your own search terms in the search field to browse other article topics.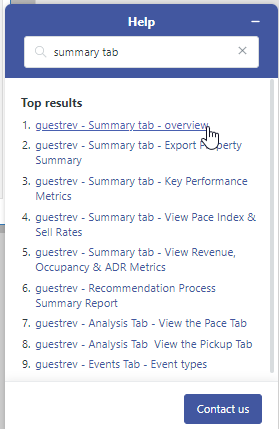 Read articles in the preview window or click the expand icon to open the article in the Cendyn Knowledge Cloud, an all-encompassing customer portal, in your browser.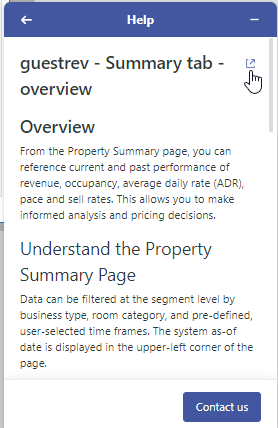 The Cendyn Knowledge Cloud is where you can come to learn, receive support, and grow. Organized by products and responsibilities, the Knowledge Cloud provides a way for new (and seasoned) team members to quickly access articles that apply to their day-to-day tasks.