Organizing your Activity log:
To see only the current listing of prospect eProposals and eCards in your Activity log, you may archive your eProposals and eCard by setting the status. Simply click on the word status below the item you wish to archive.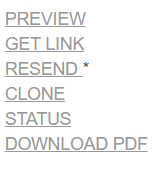 A window will appear with a drop-down list allowing you to select and designate the status for existing eProposals and eCards (ie: Definite, Turned Down). To change the status, simply select from the options in the drop-down list and click Save.