Release notes - November 13, 2020
We're excited to announce several important updates to Revintel, part of the Cendyn Revenue Cloud. Today we're launching a new report parameter to give you more flexibility and greater control of your reporting as well as an enhancement to Budget/Forecast reports. We also want to introduce you to the new Help widget you'll find throughout the product. Read on for details. We hope you enjoy these enhancements!
Comparison Year
As we all know, 2020 has been an especially challenging year that has affected the travel industry in unprecedented ways, including the unavoidable temporary closure of some hotels. As we progress into 2021, comparing on-the-books data to a previous year other than 2020 will provide a more representative view of your hotel's performance. In light of this situation, we developed a new report parameter, Comparison Year, which allows you to compare current year data to data from one, two or three years back.
The Comparison Year parameter is available in these reports:
Pace Report
Rate Code Pace Report
Daily Pace & Pickup
Channel Pace
Source Market
Province & State
Length of Stay
Production Patterns
Portfolio Report
Market Report
Market Performance
Rate Code Analysis
Channel Report
Pace and Pickup Analysis
Monthly Market Segment Report
Custom reports where applicable
The Comparison Year drop-down is located under the As of Date field in the parameter panel.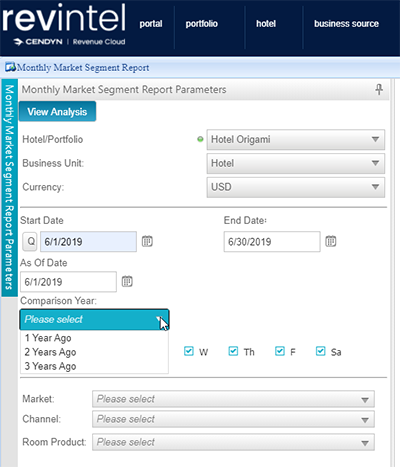 Budget/Forecast exchange rate As of Date
With this release, budget/forecast data will use the "As of Date" entered in the upload file to determine the exchange rate for the uploaded data. For example, a submitted budget with an As of Date of "20201231" will use the December 2020 exchange rates for the data contained in the file.
The following reports benefit from this enhancement:
Monthly Pickup and Budget Variance
Monthly Market Segment Report
Pace and Forecast Report
Monthly Summary
Market Performance Custom reports where applicable
Introducing the Help widget and Cendyn Knowledge Cloud
You'll now see a Help widget in the bottom right corner of every page.

Click the widget to see the top suggested articles or submit a request to the Help Desk by clicking Contact us.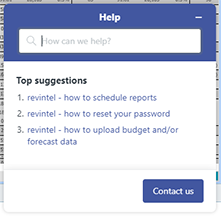 Or enter your own search terms in the search field to browse other article topics.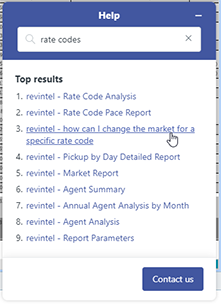 Read articles in the preview window or click the expand icon to open the article in the Cendyn Knowledge Cloud, an all-encompassing customer portal, in your browser.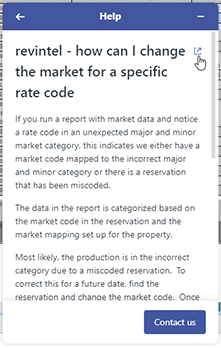 The Cendyn Knowledge Cloud is where you can come to learn, receive support, and grow. Organized by products and responsibilities, the Knowledge Cloud provides a way for new (and seasoned) team members to quickly access articles that apply to their day-to-day tasks.