Release notes - November 18, 2020
Guestfolio CRM's redesigned Latest Activity dashboard is here!
Guestfolio CRM is brimming with tools to tailor the guest experience and automate your communications for every guest throughout the travel journey. We're delighted to reveal our redesigned 'Latest Activity' dashboard that will enable you to effortlessly access and use the tools you find indispensable as soon as you log in.
These enhancements give your team the agility to better manage and target current and potential guests, while providing a smoother personalized experience on-site.
Here's what the new Latest Activity dashboard offers:
Your Latest Activity dashboard now features up to nine* cards: Guests, Guest Reservations, Automated Emails, Campaign Emails, Subscribers, Reviews, Survey Responses, Guest Requests and Mobile Concierge. (*dependent upon your configuration)
Each card displays a summary of three key data points that, at a glance, provide a powerful snapshot of your operation. For example, the number of guests arriving, in-house and departing are shown on the Guests card.
Each data point directly links to its corresponding report, collection of data or a single response, allowing you to dive into the details with a click of your mouse.
The third data point listed on most cards is a time/date stamp of the latest occurrence of the activity showcased on the card.
We hope these new cards will help bring to light new and important real-time information about your guests.
Powerful, at-a-glance view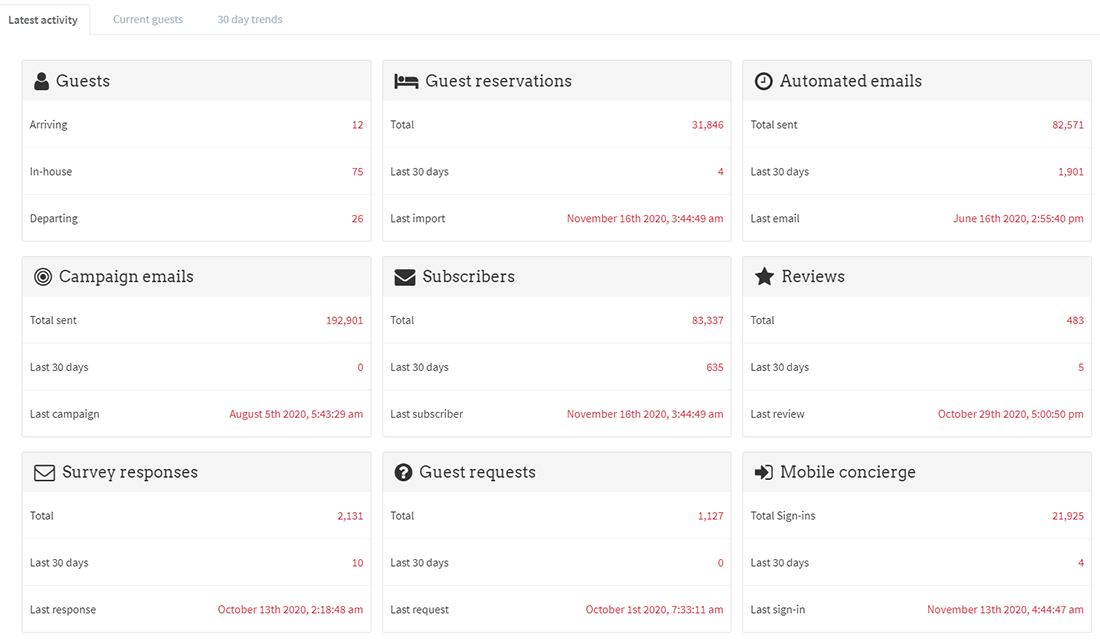 Summary of three key data points that link to details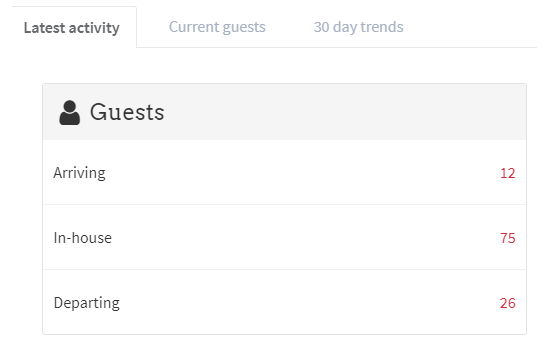 ---
Introducing the new Help Widget
As part of the recent Cendyn Knowledge Cloud launch, you'll now see a Help widget in the bottom right corner of every page.

Click the widget to see the top suggested articles or submit a request to the Help Desk by clicking Contact us. Or, enter your own search terms in the search field to browse other article topics.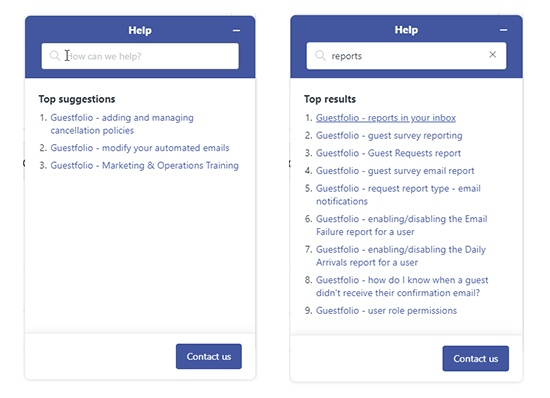 Read articles in the preview window or click the expand icon to open the article in the Cendyn Knowledge Cloud, an all-encompassing customer portal, in your browser.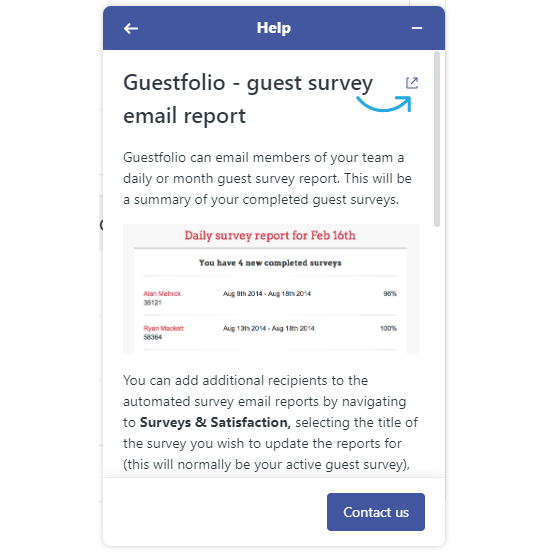 If you have any questions, please visit the Cendyn Knowledge Cloud or contact your Cendyn Client Success Team.