Click on "Activity" on the main navigation and you will be taken to the Activity log screen. The "Activity" page is composed of a list of all your existing eProposals and eCards in the system. This is the area where you may manage and track your eProposals and eCards. If you are an administrator, the list will include eProposals and eCards for all users.
Getting to Know the Activity Log

ePLite Categories
The "Currently Viewing" drop-down menu located in the top left corner of the Activity page allows you to select your preferred view from the list. You may revisit old eProposals that you have archived. For more information on archiving, read more about the "Status" action. The number next to the category in the drop-down lets you know how many eProposals are stored under that category.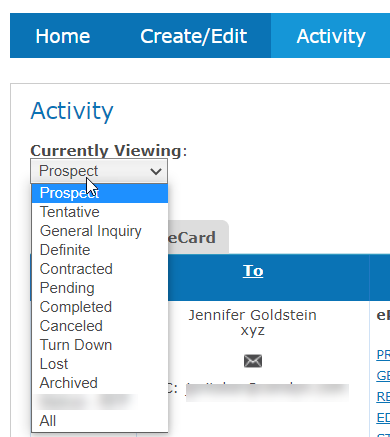 eProposal/eCard Tabs
Your eProposals and eCards are neatly separated on your Activity page into these 2 tabs. When performing a search, the results will apply to the tab you are on (e.g. if you perform a search while on the eCard tab, your search results will show only eCards).

Sorting
You may sort the eProposals by clicking on the header links in the first row to sort your activity in the order of your choice. Click on the header links consecutively to alternate between ascending and descending order.
Views
The "Views" column allows you to see if the ePLite has been viewed and the number of times it has been viewed. The number of views includes the recipient of the ePLite and all BCC contacts.
Action Links
These links allow you to perform actions relating to a particular eProposal.
Preview
Click on this link to preview the entire ePLite in a new window.
Get Link
Allows you to view ePLite's URL so that you may copy/paste it. A good use for this is sending the ePLite link in an email to your client or to another contact.
Resend
Should your client request to have the ePLite sent again, click on the "Resend" link and the system will immediately resend your ePLite to the client. An asterisk will be displayed next to the "Sent Date" indicating that the ePLite was resent.
Status
The "Status" link allows you to better organize your eProposals by placing them into different categories. Upon clicking on the link, a window will appear with a drop-down list for you to change the status of the ePLite (e.g.: Definite, Turned Down). Click "Save" and your ePLite will now be located under the category you have specified.
Expiration Date Column
You may change the Expiration date of your eProposals right from this column by clicking on the calendar icon. The Expiration date cannot come before the Event date. You may "expire" the proposal to prevent your client from viewing it, or extend the expiration date to grant them more time to view the proposal.