Release notes - February 01, 2021
We've completely redesigned how you manage campaigns in eInsight CRM and can't wait for you to dive in and check it out. Everything from the new interface to the revamped flow provides an intuitive and flexible user experience we know you'll love.
Here are just a few highlights:
Reorganized and user-friendly views with advanced filters ensure you can quickly find what you need.
New streamlined and intuitive work flows mean you can get your work done hassle-free in minutes.
Saving criteria created for a particular campaign as an Audience that can be used across other campaigns will save you time, when you need it most.
These enhancements will be deployed on February 03, 2021, beginning at 8:00 PM ET. Read on to learn more. We will also be hosting webinars over the coming weeks to run through these exciting changes – look out for an email soon with links to register.
Action-packed Manage Campaigns Page
Here's an overview of what you'll be able to do, on the fly, right on the new Manage Campaigns page:
Toggle your view between marketing and transactional campaigns and primary and sub campaigns.
Click any column header, or multiple headers, to create custom filters you can enter yourself.
Click campaign status to access an actionable pop-up that allows you to change the campaign's progress such as activating, editing or deactivating its schedule.
Click a campaign name to open its details page.
Jump to the Template tab where you can edit your template.
Clone a campaign.
Save criteria as an Audience.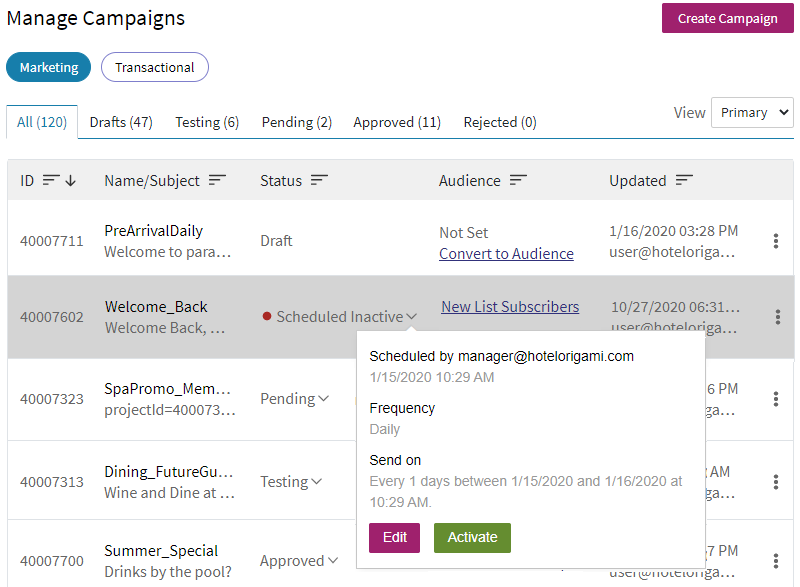 Campaign Details Like You've Never Seen
The new Campaign Details area comprises an at-a-glance summary of the campaign; a full-size preview; basic and advanced testing data; an audience summary and access to customer details where you can preview and "quick send" a test email containing real guest data; a full history; and informative reporting.
You can easily send a test email using random data from any tab within Campaign Details. And by clicking Actions, you can save the campaign as a resend or template (depending on your access).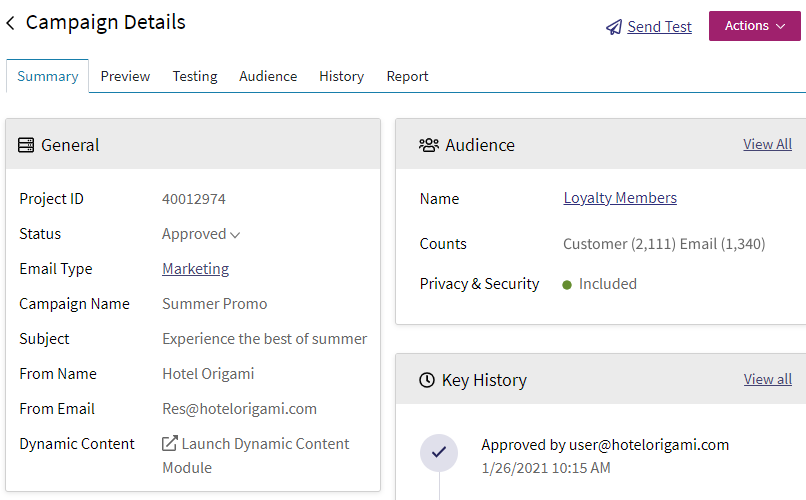 You can toggle between send dates when viewing reports of your campaigns you've sent out more than once.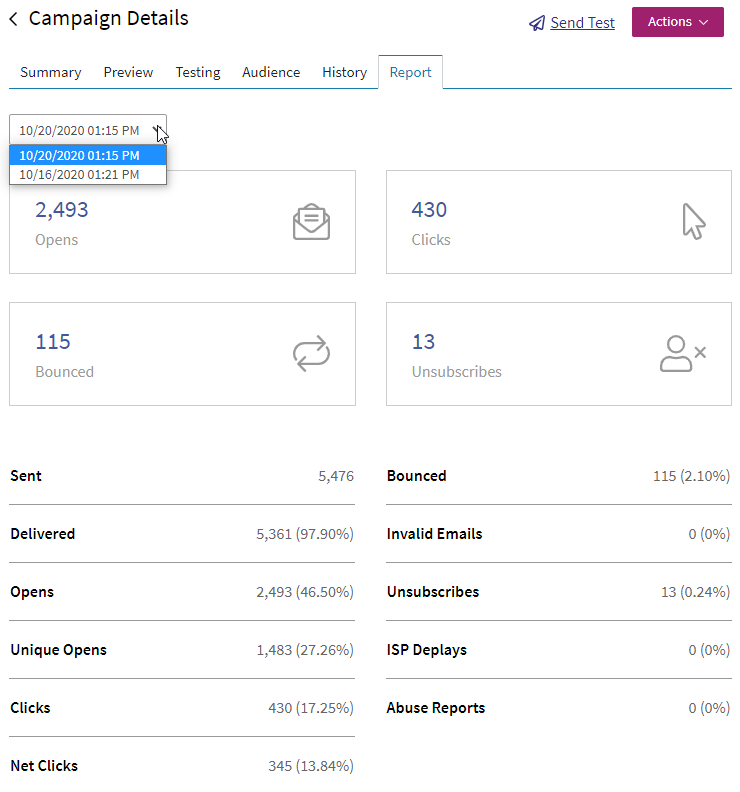 Learn more
If you have any questions, please contact producthelp@cendyn.com.