Managing your campaign is quick and easy with the new Manage Campaigns landing page and these Campaign Details tabs: Summary, Preview, Testing, Audience, History and Report.
Locate your Campaign
Navigate to Campaigns > Manage.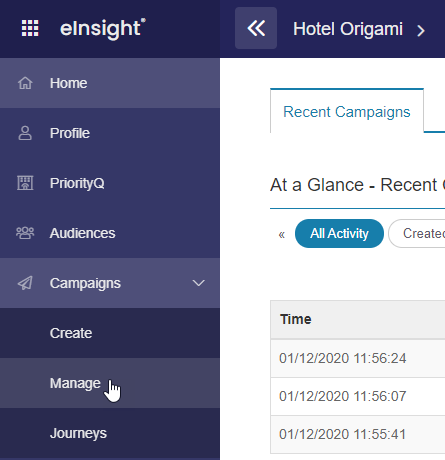 Once you locate your campaign, click the Campaign Name to jump to the campaign's details.
Or, select the Vertical Ellipsis Icon, then select:
Details to jump to the campaign's details.
Edit to jump to the Template tab.
Clone to create an exact copy of the campaign.
Actions within Campaign Details
Within the Campaign Details, click the Actions drop-down list and select:
Warning
* Deleting a campaign is permanent and cannot be reversed.
Note
** Ability to Save as Resend and Save as Template is dependent on your access. Please contact your Cendyn Customer Experience Team for more information.
Campaign Details Summary
Select the Email Type link to view or edit the settings associated with the email type selected for the campaign.
If the Audience is not yet set for the campaign, select Save Audience, enter a name for the Audience and select Save. You'll now be able to use the Audience for any other campaign.
Preview
View a full-size preview of your campaign.
Testing
Basic
View your latest results of the Basic Validation report on the Testing tab. If the campaign status is "Draft" or "Testing," you can select Run Again to create a new report. Hover over an image link to preview the image. Hover over a link in the Links area to view its status. Click on a link to open it in a new tab.
Advanced
Select Advanced to view your Inbox Preview and Inbox Forecaster results. Click Launch to review results of a previously run test or select Request New to generate a new one.
Audience
Summary
View your selected Audience on the Summary page of the Audience tab.
Just as you can on the Summary tab, if the campaign's Audience is not set yet, select Save Audience. Enter a name for your new Audience, then select Save. You'll now be able to use the Audience for any other campaign.
Customer Details
When you select Customer Details, the customers who meet your campaign criteria will appear in a table. Read about customer details here.
History
View a change log of your campaign which details when a change was made and by whom.
Report
Toggle between send dates when viewing reports of your campaigns that you've sent out more than once.
Read more about managing your campaign: