When a guest receives an email, eInsight categorizes their email address based on the the delivery status or an action taken by the recipient. For example, did the guest unsubscribe? A status is then assigned to the email address. The email status breakdown displays when you're creating Audiences and helps you determine the how many valid email addresses can be reached.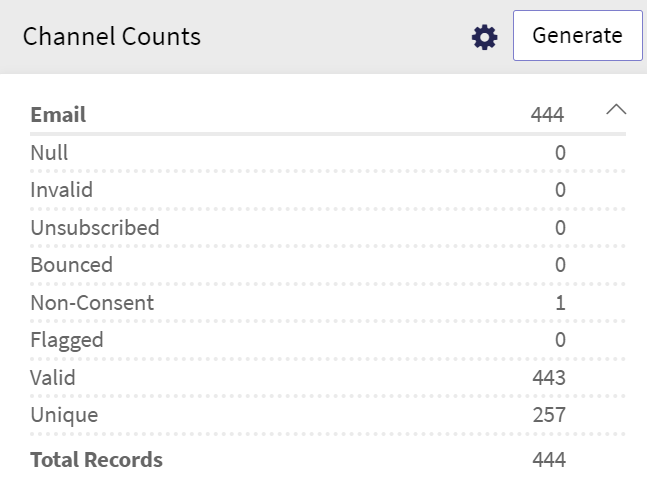 What do the different email statuses mean?
Null - There is no email associated with the Profile, the field is blank
Invalid - The email does not exist. Invalid email addresses are automatically unsubscribed and will no longer be sent to.
Unsubscribed - the guest has opted out of receiving email marketing campaigns. The unsubscribed status is further categorized by how the guest unsubscribed.
Subscriber- The guest unsubscribed through subscription center or unsubscribe link or clicked on the email client's unsubscribe button
Abuse Complaint - When the guest directly marks the email 'Junk' or 'Spam'
List-Unsubscribe - an eInsight administrative manually uploaded a list of emails to be unsubscribed
eInsight Profile: an eInsight administrative manually unsubscribed a single email.
Bounced: From mailbox not found to mail server issues, there are a number of different reasons emails bounce.
Soft Bounce: Temporary delivery issue
Hard Bounce: Permanent delivery issue
Note:
A bounced email will no longer receive marketing campaigns as a result of being rejected by the recipient's mail server.
Non-Consent: Email addresses that have not been opted-in or subscribed. You can manage the consent of your lists in the Admin tab.
Flagged/Email Flag to Not Send: domains that have been flagged as automatic exclusions in the Admin tab > Suppressed Emails
Valid Emails: Total emails minus Invalid, Null, Unsubscribed, Non-Consent, Bounced, Flagged
Unique Email Matches: Valid Emails with all the duplicates removed (deduped)
Note
To update an email's status, please contact producthelp@cendyn.com