When a user receives an email, eInsight categorizes the email address based on the user's behavior. For example, did the user unsubscribe? A status is then assigned to the email address. When you're creating Audiences, the email status breakdown displays.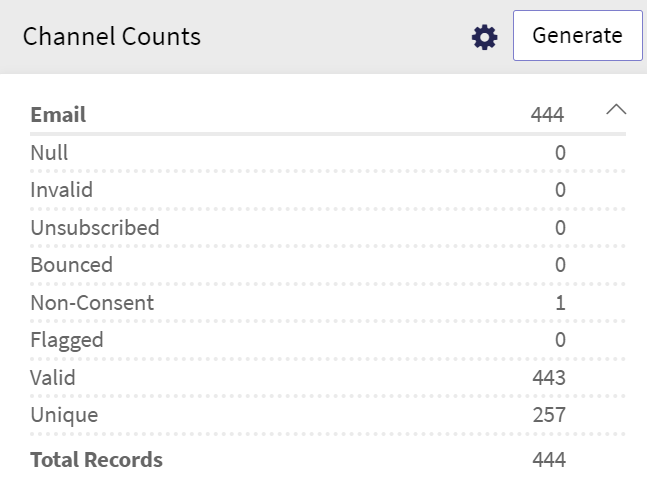 What do the different email statuses mean?
Null - There is no email associated with the Profile, the field is blank
Invalid - The email has a typo or does not exist. Invalid email addresses are automatically unsubscribed after the campaign sends and will no longer be sent to.
Unsubscribed - the user has opted out of receiving email marketing campaigns. The unsubscribed status is further categorized by how the user unsubscribed.
Subscriber- The user unsubscribed through subscription center or unsubscribe link
Abuse Complaint - when the user directly unsubscribes in their inbox. For example, marking the email as 'Junk', 'Spam', or auto-generated unsubscribe link from their ISP.
List-Unsubscribe - an administrative user manually uploaded a list of emails to be unsubscribed
eInsight Profile: an administrative user manually unsubscribed a single email.
Bounced: From full inboxes to mail server issues there are a number of different reasons emails bounce. Once an email bounces, the email campaign will attempt to send it 3 more times before the email status is updated to a Hard Bounce.
Soft Bounce: Temporary delivery issue
Hard Bounce: Permanent delivery issue
Note
A bounced email will no longer receive marketing campaigns as a result of being rejected by the recipients mail server.
Non-Consent: Email addresses that have not been opted-in or subscribed. You can manage the consent of your lists in the Admin tab.
Flagged/Email Flag to Not Send: domains that have been flagged as automatic exclusions in the Admin tab > Suppressed Emails
Good and Valid Emails: Total emails minus Invalid, Null, Unsubscribed, Non-Consent, Bounced, Flagged
Unique Email Matches: Good and Valid Emails with all the duplicates removed (deduped)
Note
To update an email's status, please contact producthelp@cendyn.com