Did you notice one of your email campaigns had a higher bounce rate than usual? Utilize our reports to dig in and understand the reasons why your emails have bounced. This will allow you to better understand your database and take action for improved deliverability.
Pro-Tip
Use the zoom feature in your internet browser to view more or less data on the Home screen. The more you zoom out the more information will show.
Run the report
For a refresher on reports visit our article eInsight - reports overview
- Open the Campaign Production Report under Team content > All Reports > Campaign
- Once the report loads scroll to right to see the number of bounces.

- Select the number of bounced emails for the email campaign you are investigating.
- The Campaign Production Bounce Details report will populate and from there you can export to Excel.
Creating a pivot table

To organize the report into meaningful data we will utilize a pivot table.
- To start, insert a table by highlighting the data and selecting Table under the Insert tab.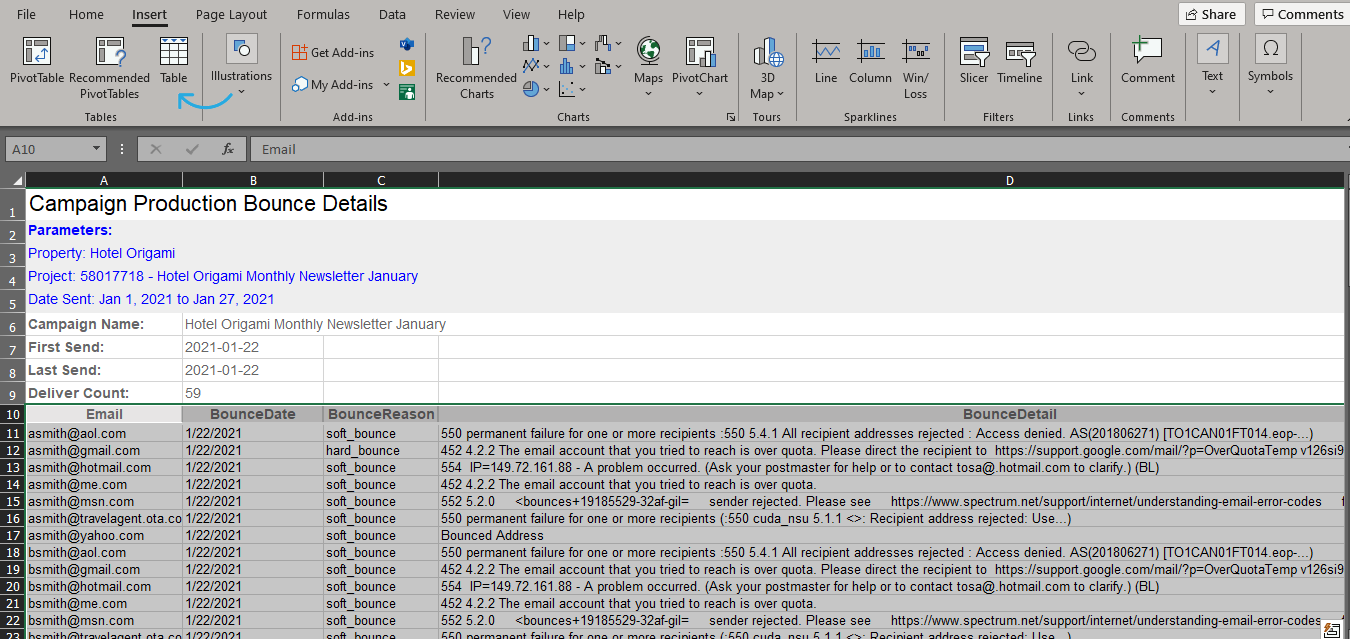 - Insert a new column to the right of the Email column so we have room for a Domain column.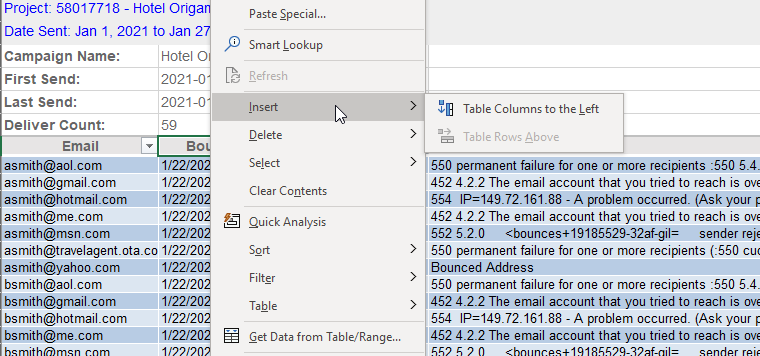 - Highlight all the emails and select Text to Columns under the Data tab.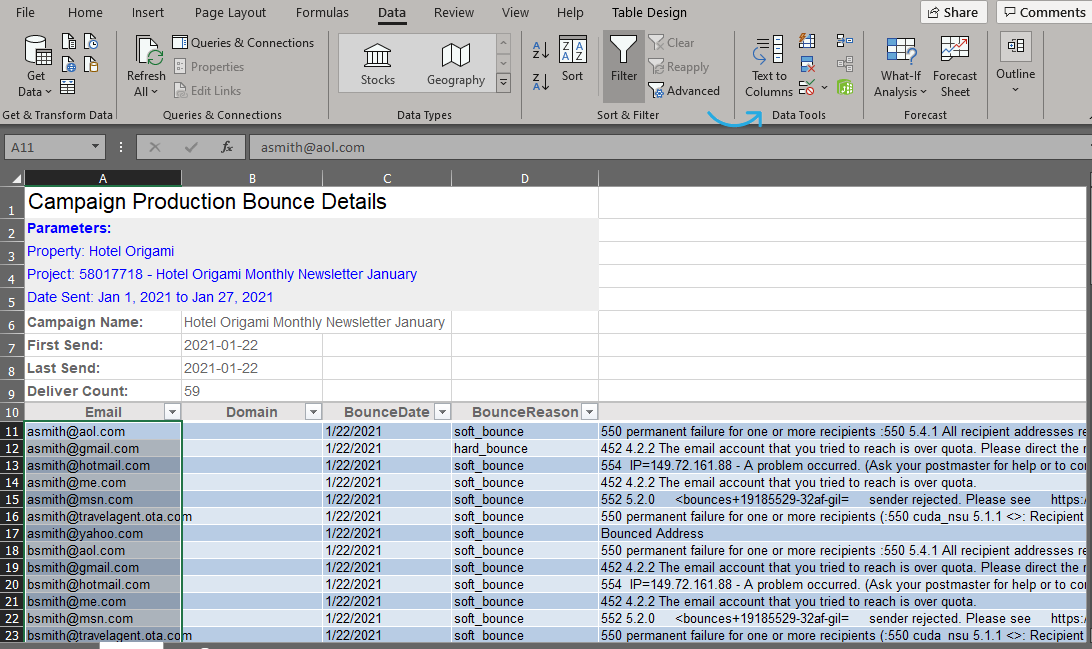 - Keep Delimited Selected > Next
- Select Other: and insert "@" > Finish > OK
Now that the domains are in their own column we can use a pivot table to rank the domains from highest number of bounces to lowest.

- Insert > Pivot Table. Excel should select the table already created.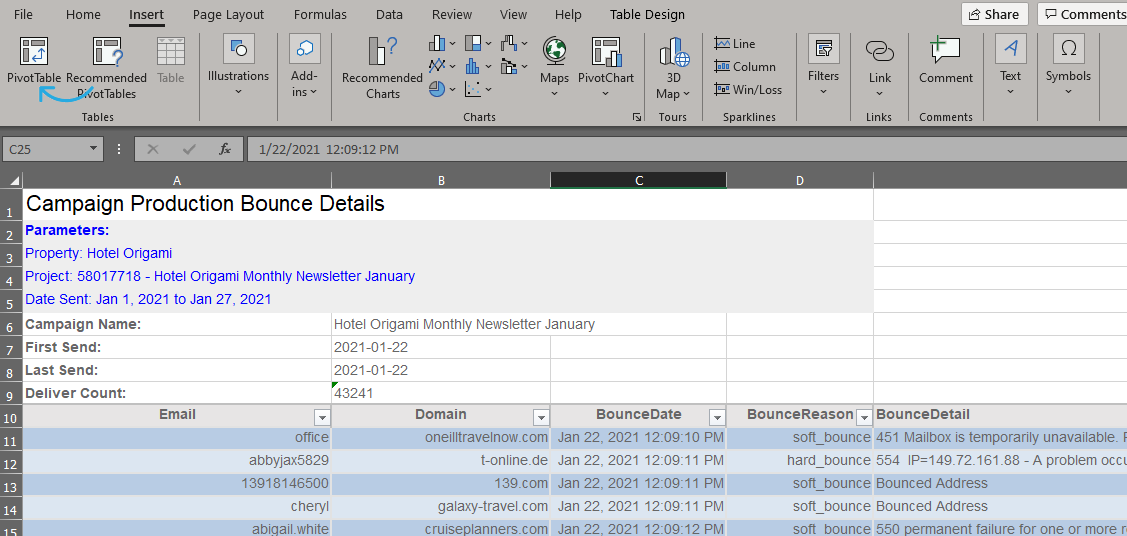 - A new sheet will open with the PivotTable Fields. Move the fields to match the below.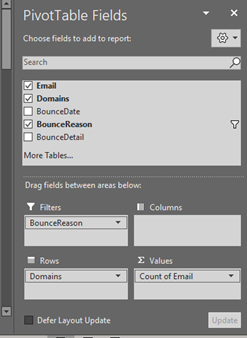 This will populate the data to show how many bounces per domain.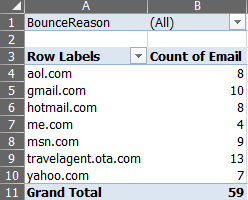 Organize the domains from most number of bounces to least.
- Select the first number under Count of Email in your pivot table. Then select the Sort & Filter drop down under the Home Tab and Sort from Largest to Smallest

Now we can see which domains had the highest bounces.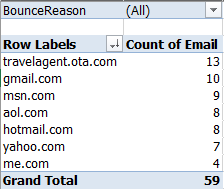 You can double click the number under Count of Email and a new page will open with all the bounce reasons for that specific Internet Service Provider.

With this data you are now able to better understand what email domains are bouncing and why. Reach out to your Cendyn representative on ways to take action and improve deliverability.
Next steps would be to search these bounced emails in the Profile Tab of eInsight to find any patterns or groupings and to see which data source is responsible.