Release notes - March 25, 2021
Sometimes something simple can make the biggest impact. We're confident this will ring true for the two newest enhancements coming to eInsight:
You will now be able to manage your guests' email status (subscribed or unsubscribed) within the Profile tab as and when needed.

We've optimized the Data Source filter in Audiences, which will shorten the time it takes to generate counts. This improved filter is labelled "Data Source."
This enhancement will be deployed on Wednesday, March 31, 2021, beginning at 8:00 PM ET. Read on to learn more.
Refreshed Email Status Tab
On the Email Status tab under Profile (formerly named the Subscriptions tab) you'll now be able to subscribe a guest who is unsubscribed, and as previously, unsubscribe a guest who is subscribed.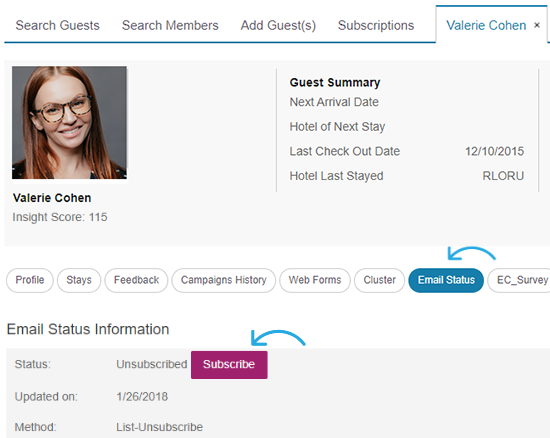 Learn more about subscribing and unsubscribing emails.
Optimized Data Source filter
In Audiences, when configuring your Audience criteria, you will see these two filters:
Data Source (formerly named "Data Source (Optimized)")
Data Source Legacy (formerly named "Data Source")
When creating new Audiences moving forward, use the newly labelled "Data Source" filter, which is now optimized to pull in your data counts faster and more effectively.
These updated names will appear on your existing campaigns so if you clone an older campaign and see it uses the "Data Source Legacy" filter, swap it out for the "Data Source" filter to ensure efficiency with your data counts.