At Cendyn we provide hoteliers around the globe with innovative technology solutions that enable more meaningful guest relationships by empowering hotel staff with the data they need at every touchpoint in the guest journey. If you are a guest, kindly reach out to the hotel directly with your request.
If you are a hotelier, please continue below.
If you have received a request for complete erasure or removal of one's personal details, we provide three different ways to ensure the individual's request is processed in a timely manner.
Option 1: The Help Button
At the bottom of the page of every Cendyn product, you can select the Help button. The Help button is where you can search the Knowledge Cloud or select Contact Us to directly contact our team.
You can also select GDPR Removal Request and submit a request for:
Erasure of personal data (right to be forgotten)
Copy of personal data record
Rectification of incorrect personal data
Request to stop processing

Option 2: Submit a Request via the Knowledge Cloud
On the navigation of help.cendyn.com, you can find the Submit a Request option. This is where you can submit your general inquiries or the specific GDPR Removal Request form.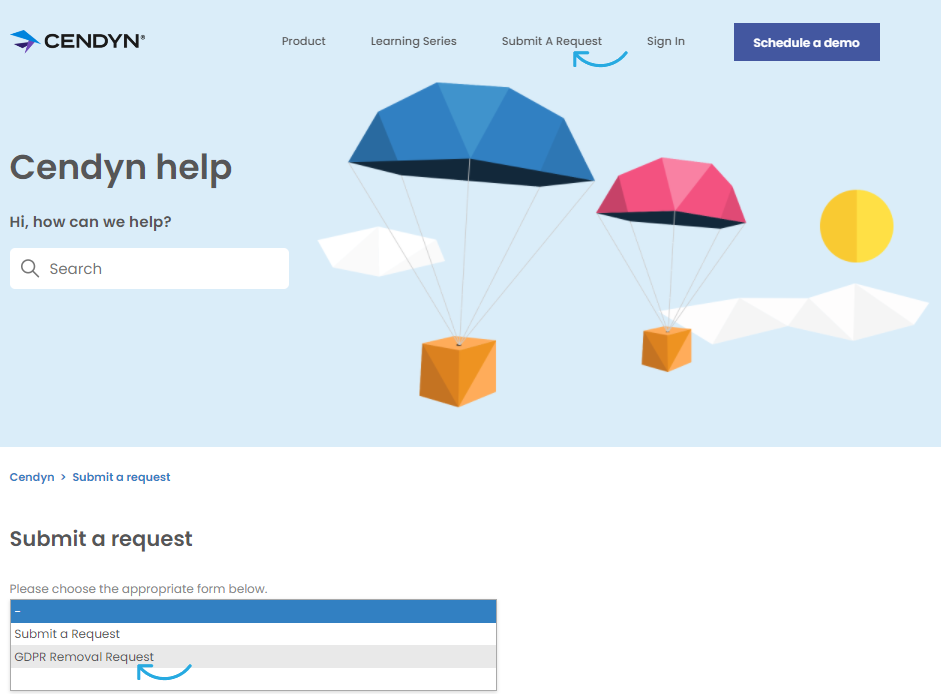 Option 3: Fill out the Data Controller Consumer Rights Request Form
Click here to download the PDF version of the forms above. Please send completed forms to privacy@cendyn.com. Our team will then follow up as soon as the request has been completed.