Using the Page Manager, you can edit the pages in your site. You can add of content to your web pages, ranging from text, links, documents, including pdfs. The page manager comes with the WYSIWYG editor, so you can see the results immediately.
In this article: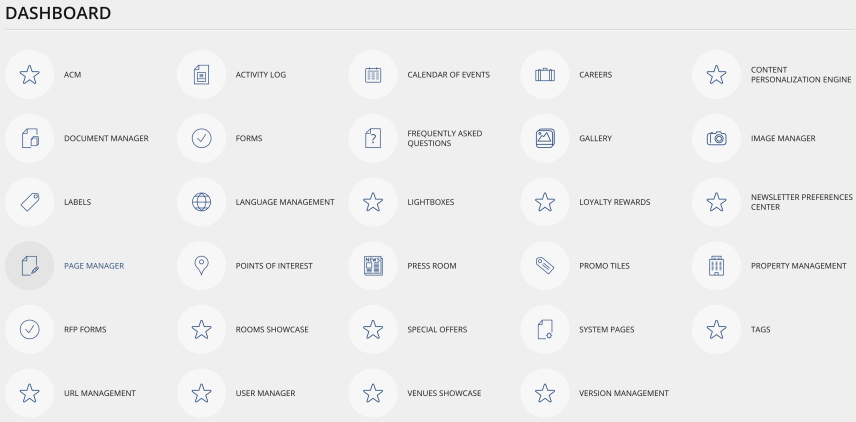 Edit a page
Select the Page Manager from the CMS dashboard.
From the list of pages, select the page you want to edit.
The page editor opens.

Each page can have a top image, thumbnail, marketing messages and links, copy, short description and headings. Pages can also have attributes and SEO features. You can work your way through the editing process by clicking one tab option after the other, including Content, Images, and Attributes.



The main benefit of the WYSIWYG editor is that you can make changes and immediately see how they will be displayed on your live website, when you are ready to publish.

Use the Content page and the

WYSIWYG editor

to add and edit text, as required.
Additional options allow you to insert images, documents, widgets, and to create links to other content. See section Add documents, including PDFs, to a page below.
Select Save when you are done.
Add/edit a top image
Using the Image tab option, you can add and edit images available from the Image Manager.
In the page editor, select the tab option Images.

Any images in the Image Manager. are available for use in any of your pages.
Adjust the image as required, or remove the current image and replace it with another one.
You can add several images at once and then change the order of the images, as they will display on the page in photo slider.
Change the required sequence of several images by moving them around with drag + drop.
Add documents, including PDFs, to a page
When you are in the WYSIWYG editor, you can add documents, including PDFs, to page content.
Select the option Insert Document.
The option is right above the WYSIWYG editor.
The system displays a list of available documents. You can insert documents that have been uploaded to the system with the Document Manager. For details, see related article
Select the PDF or other document you want to include at this position of the page content.
You can select any of the documents available in the list. The
Note: You can insert images and widgets in the same manner. Simply select the options Insert Images and Insert Widget, respectively.